Von and Corrin's Skid Row Journal
Day 3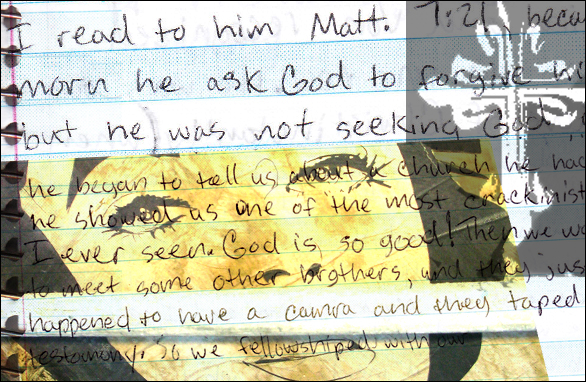 Written by Corrin and Von G
DAY 1 plus VIDEO (click here)
DAY 2 (click here)
DAY 3
: Woke up at 9:00 a.m. and started with a message from my brotha Chris about the grace of God. Sure enough, right after that good spiritual food, 2 guys came around the corner needing a tire. So I gave them my spare tire, along with my number and an invitation to church. Then about ten minutes later they came back because the tire didn't fit, so I took them up the block to a tire shop. The tire shop was in walking distance, so they really didn't need a ride, they "wanted" one. But I bet Jesus would have driven them, so I treated them like that, and even helped them a push start their own car.
After that, I shared some juice with them that I had in my car. I talked with one of guys and I read to him Titus 2:11-12. It talks about how the grace of God teaches us to say "no" to ungodliness and "yes" to righteousness, (because he was saying he was suppose to be a pastor, but he had to live in the world first in order to have a testimony). He told me, every morning, he asks God to forgive him for the sins he is going to do (Basically an excuse to sin). God would not want us to live in sin to have a testimony. So I read Matthew 7;21 because I wanted him to understand that even thought he felt that he had a call on his life to be a pastor that only those who actually do the will of the Father will go to heaven.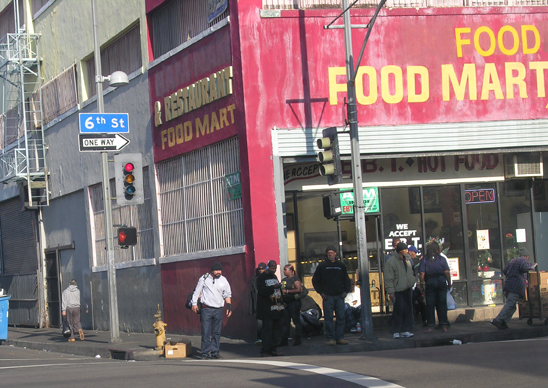 The last scripture I read to him was Hebrews 10:26, bringing to his attention that if we keep willfully sinning after having knowledge of the truth, then the sacrifice of Christ is of no effect for our sins, and that all we can expect is judgment. He kept using excuses for certain things and telling me what he thought and I kept telling him what God thinks.
Afterwards we headed to the park and played ball like the previous day. After some good exercise, we walked down to another park a little ways from the mission on Skid Row. Me and Von were tired. We were fasting and the hunger started to hit us so I prayed and asked the Lord to strengthin us on the way to the park. When we got to the park I felt led to read Jeremiah 42-45, and what the Holy Spirit brought to my attention was that when God tells us to do something it's always in our best interest and that disobeying God is not such a good idea.
There was this guy that was sitting close by me and Von and I noticed he had a Bible, so I said to the Lord, "if it's your will I'll get to talk to him." A couple of minutes went by and we began talking and I asked him what he was reading in the word and he handed me his Bible and told me to read what he highlighted. He had things written in the margins about Hebrew tribes and what not and I began to sense that he wasn't really understanding what the Bible says. So I asked him if he believed Jesus was God, and he said "no." He believed in some parts of the Bible but not the parts about Jesus. "Weird" I thought, because the whole Bible is about Jesus.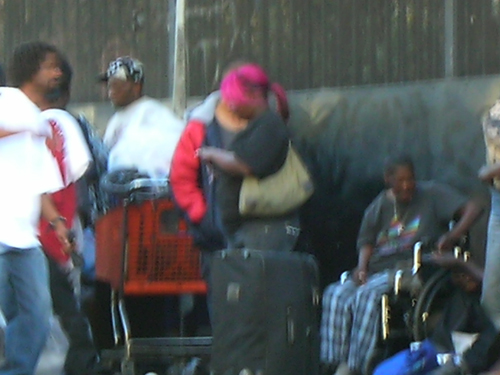 He began to talk about how he was a Hebrew, all black people are Hebrew, and that the Jews in Isreal are not real Hebrews, but that black people are. He was caught up on the race thing too. He started quoting scriptures and adding and making parts up, which by the power of God, I gladly corrected. But he didn't hear me or Von. Then one of his friends said some disturbing things: "there is no such thing as death," "I'm a supreme being!" I realized that Satan's original lie from the garden of Eden: "you can be God," is still working today.
We left on that note and went back to the "hot spot." I was writing in our journal when Von recognized Patrick from a youtube video on Skid Row. He was our brother, I felt the love of Christ instantly (when you meet another Christian you just want to hug them and show them love). So we got to talking with him and we told him how the Lord had led us to come down to Skid Row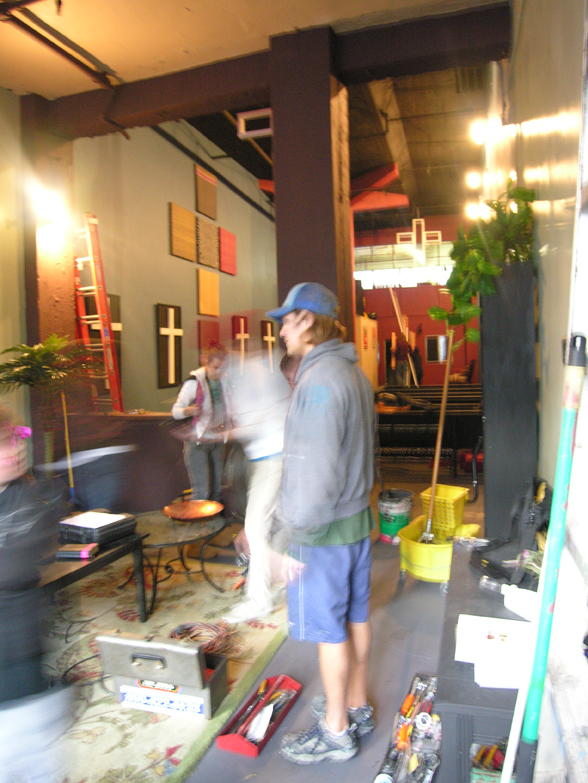 for a week and he began to tell us about a church he was opening right on skid row called the Jonah Project. When he showed it to us, it was the most crack'in-ist (thats not a word) church I had ever seen. I loved the way it was set up. God is good! Then we walked down the street and met the guys from Enoch Magazine and they taped us and our testimony. So we fellowshiped with our brothers for a good little while and just talked about how good Jesus is.
We then went by another church on Skid Row called "Set Free Church" led by Pastor Ron. We had no idea of what Jesus was doing on Skid Row but we were starting to see it. Me and Von then went to Bible class at our church to let them know how it was going and to get some prayer. After bible class we headed back to Skid Row, parked our car and knocked out in Jesus name. Read DAY 4 (click here)