Von G and Corrin's Skid Row Journal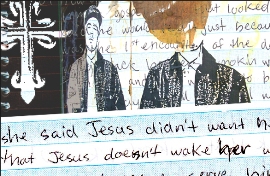 Written by Corrin and Von-G Photos by Meghan Smith
DAY 1
: So me and my brotha Von arrived at skid row around 3:30 p.m. We decided to read some of the word before heading out on to the streets because we didn't know what we were going to encounter. The one scripture that was our motivation was Matthew chapter 10 when Jesus sent his disciples out two by two to preach that the kingdom of God was at hand and that is exactly what me and Von were doing. Our mission was to preach the gospel to anybody who wanted to hear it.
So we headed out and while we were walking to skid row we read aloud Ephesian 6:10-18 about putting on the whole armor of God, because we were going to be in contact with different spirits. We were trying to figure out where we were going to go, but we didn't know so we just started walking straight up skid row. The first guy we came in contact with asked us for the time, which lead to a conversation about Jesus. He didn't believe Jesus was God but he believed that the "black man" was God. He began talking about how blacks are good in sports naturally, and the features on the black man. So we got our Bibles out and showed him scriptures where it says Jesus is God, but he didn't believe the Bible because it was written by man and not by God.
So we kept talking and pretty soon we had a little crowd around us, with different people coming in and saying "Jesus is God." Then this guy that over heard us came over and broke down the gospel to him.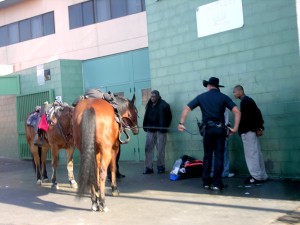 He was feeling convicted, and eventually he left. Another guy came and was saying how Elijah Muhammod was the last prophet sent by God, and how his teachings have helped so many black people. I told him that Jesus has helped not only black people but all people by dying for their sins reconciling us back to God. Then he started talking about a "mothership," and his "third eye" so we ended that convo.
It wasn't long before we heard about a bible study in a mission on sixth street. So we went in and sat and listened. The good word was going forth. The leader of the Bible study said something that stuck out to me; "when we are offended, it shows how selfish we are." This stuck with me because I knew we were going to come across some rude people that didn't love Jesus, but Jesus told us not to be offended but love everyone as yourself.
After the Bible study we were walking around handing out gospel tracks and we came across The Church Without Walls. Some believers had started a church right on the corner of 5th and San Pedro. So Von and I sat down and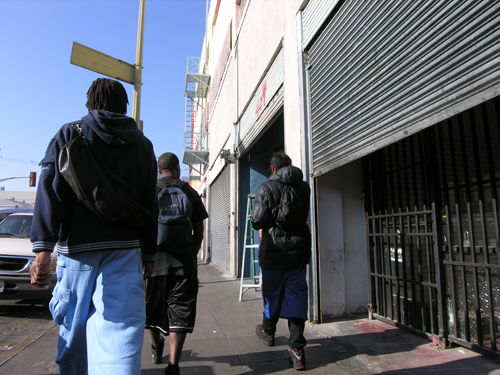 listened in to their message as well. It was beautiful, they had food for people and the word of God. Von and I met Marvin, the guy who started The Church Without Walls. He was a real cool brotha. He invited us to come and speak to the people sometime during he week, and we agreed. We eventually ended up back at my car. We had run out of gospel tracks, so we decided to head to The Way Of The Master and re-up on some tracks.
Right before we were about to pull off, a lady came to the car asking about some gangbanger or something. So we started talking to her about Jesus, and she began to tell us about how she was raised in the church and how she had been saved. We started sharing the word with her. She broke down in tears because she knew the truth but wasn't living for Jesus, so we prayed for her and told her she should come to church with us tomorrow on 5th and San Pedro and give her life back to Jesus before it was too late. We ended the night in the parking lot of "The Way Of The Master." Read DAY 2 (click here)