The Coexist Bumper Sticker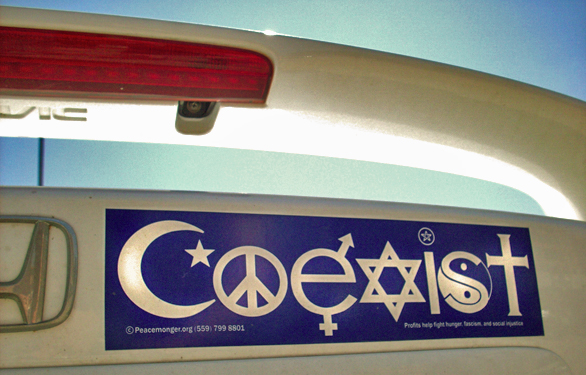 Written by Lance Steinhibel
How many times have you been driving down the road, and seen something on a car that makes you wonder? I know that I have many times; whether it's a band sticker, political party, or something religious. It's interesting what people proclaim about their feelings to anyone who cares to glance at their car. I find it funny, because then I play a game in my mind trying to figure out what this person looks like. I know it sounds terrible, but its kind of fun. Trying to guess what they're wearing based on what bands stickers they have. Maybe I am just weird… it would not be the first time anyone has thought that about me.
I'm sure all of us have seen countless religious stickers too, which is not a bad thing. I never really think too much about them, but I started to see one bumper sticker more than others it seemed lately. I started seeing the "COEXIST" one everywhere. It's normally blue, and has a bunch of religious symbols that resemble the letters that spell out "coexist". Well I started thinking about it, and at first I was like, "that's not possible: I believe that Jesus is the way to heaven." So what is this guy with the bumper sticker thinking? Maybe he is just playing the odds and putting bets on everything hoping to catch a piece of something. But the more I thought about it, the more it made sense to me. So over the next couple weeks, I began paying attention to Christians who would react to this sticker, complaining about how wrong it was.
I heard people saying, "How dare they even think to put the cross next to any other symbol!" and "Guys, we should be calling our pastors about this." Instead of agreeing with them, I began to ask a few why they were so mad. Every response was some variation of, "other religions are wrong, so why should we have to coexist with them?" They were missing the point of it all, and it drove me crazy. They missed everything about loving one another as yourself, kindness, and understanding. I'm not saying every religion is right, but what I am saying is that if you ever want the opportunity to share with someone the love of Jesus, you must be first be open to hear what they believe in and what matters to them. Look at the life of Paul in the New Testament; he knew exactly what all the other religions were doing in that time, and what they believed. It's not about who is right, and who is wrong. It's about showing people love and respect for what they believe in and what they are passionate about. That doesn't mean you have to agree with them, just respect them.
I decided to look up the meaning of "COEXIST" and what it means for owners of the ever-popular decal… and I was pleasantly surprised with what I found. One explanation stated "COEXIST is a way to demonstrate your support of religious freedom, tolerance and understanding." Now I don't think that's very evil, it actually sounds like something I would love to have for what I believe. Another was "to encourage others in a greater religious understanding of other's distinctive faiths, beliefs and practices. To promote friendship, goodwill and mutual trust among them." Again, I am not seeing anything too scary evil or making me want to call my pastor and get him on the lookout for these crazy people.
If Christians believe in love, then we have to love everyone, even those who believe in different gods. Because honestly, why would anyone want to hear about our God and beliefs, if we don't even care enough to care about theirs?
Other Articles: "Does Jesus COEXIST?"
"Poking Holes in the COEXIST Movement"