Poking Holes in the COEXIST Movement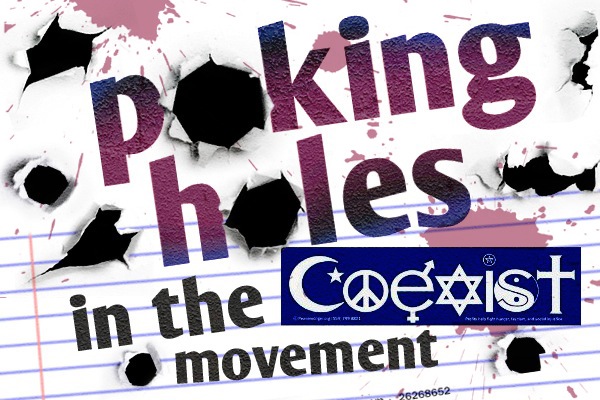 written by Jeremy Jackson
The major problems I see in the "COEXIST" movement are the need for protection, the need for healing, and the need for love. None of these are addressed by the sticker's message. All of these are important and necessary on both micro and macro
levels today.
Thinking people should realize that there is a need for protection. Even if the end goal of the "COEXIST" sticker is merely to support the idea that we all get along, then it has a very serious philosophical dilemma. If we had believed in the ultimate "live together" mantra, would anyone have stood up to Nazi Germany as they brutally killed millions and rolled over Europe? What about other aggressors the world over? This is a Biblical concept – would David have overcome Goliath? Would Moses have stood up against Pharoah? Would Jesus have died on the cross for his teachings and miracles? Overcoming evil requires a willingness to be in opposition to others, a willingness to take a stand. The need for protection is an obvious problem with the "coexist" message.
Another problem with the movement: the suggestion that we "coexist" is merely a bandaid. There is no healing for wounds and no solution for complex problems. To encourage others to "live together" is at best a high-reaching moral standard. It does not offer healing to an already broken world. Jesus Christ offers a solution to the problem of sin, alienation, hostility and bitterness in our culture. He gives us hope in a world that does not offer hope. The "coexist" message, though pragmatic, is not helpful. It does not compare to what Jesus did. The message does not address the need for personal and interpersonal healing. This is done only through the cross: "For He Himself is our peace, who made both groups into one and broke down the barrier of the dividing wall, by abolishing in His flesh the enmity, … so that in Himself He might make the two into one new man, thus establishing peace"(Eph 2:14-15). Can harmony, healing and peace come any where else?
One of my favorite movies is the movie "Crash". There is a terrible feeling you get when you watch the ugly things people do based on their fears and stereotypes. The white police officer in the story profiles a black man and sexually molests his wife. The Armenian man is willing to take a shot at the Mexican man and risk killing his daughter because he thought the man destroyed his business. Even recalling these scenes
now might make you cringe. But the movie also showed hope. It didn't seem like the director's purpose was that we see a need to "coexist". The need is for more than that. He was able to portray in the midst of these horrible scenes and stories, the beauty of human existence too. At the end of the story, the police officer refuses to let the woman he abused die in a burning car, risking his own life to save her. The Mexican man's daughter believed she was able to protect her Dad by jumping in front of him, and they both survived. These things showed not the desire to merely "exist together", but a grace that's above and beyond that: sacrificial, selfless love. Love, as Jesus said, is to lay down one's life for one's friend (Jhn 15:13). The Good Samaritan paid dearly to help his neighbor. The "COEXIST" sticker does not address the need for love. Love is what followers of Christ should be concerned about modeling and teaching.
What We've Learned
Though there is truth to what its advocates are saying with their message, there are many problems with the "coexist" philosophy and method. What about when one of the groups represented is doing wrong or harm to others? What about the need in life for healing and reconciliation? What about the need for sacrificial love, love that overcomes evil? Like Jesus' message has been at times, I do believe and understand that this message could possibly have been pure at its inception but unjustly co-opted by money-lovers. Yet, isn't there something innately skewed about a message of togetherness that's being sold to us by people who just want to make a profit?
When Jesus was resisted by some religious people who accused him of doing the work of a satanist, He said about his disciples "He who is not for me is against me, and he who does not gather with me scatters" (Lk 11:23). Sure, Jesus did not come to make enemies, He came to save not judge, but there always came a point where he recognized error and spoke the truth. He would not let anyone slander him and say
that he was the same as a satanist, a liar, a deceiver, a religious pawn or a lunatic. He confronted lies about who He was with the truth.
Not only this, but as it did , it might surprise many others who support the "coexist" message that Jesus is actually credited in more than one gospel with the words "I did not come to bring peace, but division" (Lk 12:51, Mttw 10:34). Either these words were fabrications, as one might choose to believe, or they are a suggestion that Christ's peace is supreme even to a peace that unites across religious spectrums.
And if Christ's peace is in fact superior to all, certainly this should be the peace reasoning people spend and work to promote.