The Forgotten Church – Christmas Outreach in Enid, OK.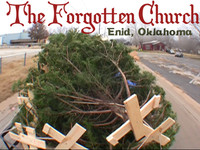 Shot and Edited by Carter Theis
Enoch Magazine loves traveling around the country and documenting people like Jeremiah from the Forgotten Church. We originally met Jeremiah and his wife Sarah on the streets of Skid Row Los Angeles. They were partners with Patrick and the Jonah Project on Skid Row. But once they lost their building down there, Jeremiah and Sarah traveled to back to Jeremiah's roots in Enid, Oklahoma. Most people might think their "cool" ministry days were over once they were no longer in Skid Row, but not Jeremiah. He quickly began working on a new ministry concept called the Forgotten Church.
The name says it all. Either the church has "forgotten" how to reach the community, or the community has simply forgotten about the church. Regardless, Jeremiah and Sarah have seen significant results just with the first few outreaches and events they've done. The Forgotten Church is a way for churches to get off the pews and out into the community. It's a way to unite churches in a town and start serving the poor. Contact Sarah at sarah@forgottenchruch.com and see how you can do the same in your community.