Shane Claiborne Interview at Area 15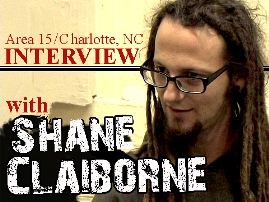 Filmed by Daniel Hodges and Carter Theis
Enoch Magazine interviewed Shane Claiborne as he traveled through the southeast. Shane had just gotten back from Australia, when he rolled though Charlotte, NC. His entourage consisted only of his mother and he spoke two days at the Christian-based artist colony in downtown Charlotte known as
Area 15
. Shane is a well known author of popular books like
The Irresistible Revolution
and
Jesus for President
. Shane has worked with Mother Theresa and spent time in Iraq during the beginning of the Iraq war.
Shane represents a new era of Christians who are willing to move into communities that are hurting and plagued by drugs and poverty. He lives in Philadelphia in a part of the city where heroin sells in its purest form. His philosophies on loving and living with people are simple assessments of how Jesus lived his life and commanded us to live ours.
In this interview, Regan Rylander asks Shane what he thinks about living in community with others, how the rich can meet the poor and how Shane hears from God.
Also, check out the Area 15 community that Shane is "digg'n" here:
www.areafifteen.com