Relient K – Warped Tour, Jesus and Depression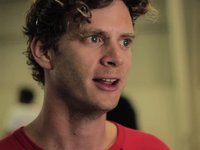 Warped Tour is a summer tour presented by Vans Inc. During the Warped Tour, Enoch Magazine interviewed Matt Theissen and Matt Hoopes from the Christian rock band Relient K. Along with Brian Pittman, Theissen and Hoopes co-founded the band in 1998 during their junior year of high school. Matt Theissen is the lead singer for Relient K. He writes most of the songs, while also playing guitar and piano. Matt Hoopes is the lead guitarist for Relient K. He also sings back up vocals and is attributed for the band's name. Relient K was named after Hoopes' car, the Plymouth Reliant K, and it is said that he still owns it. The car is currently sitting on cinder blocks in the driveway of the house owned by his younger brother, Scott, in North Canton, Ohio.
In this video, Nate Smith (Enoch Magazine) asks Theissen and Hoopes about the Warped Tour, Jesus and Matt Theissen's past struggles with depression. Watch as the guys talk about touring, their perception of Jesus and what advice they would give to kids struggling with depression.