Oh Sleeper – Know What You Believe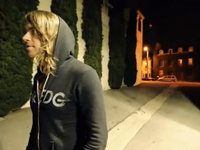 We went to the Key Club in Hollywood, CA to see Oh Sleep perform. The security staff was amazing! They let us film the band on stage, in the balcony, where ever! We just want to first mention how awesome the Key Club is… for had they been more strict, we wouldn't have been able to create such encouraging media!
Oh Sleeper is a hardcore band. They tour and perform with other bands such as Norma Jean. It should be noted that while the singer of Oh Sleeper, Micah Kinard, is a Christian, the rest of the band is not. But the rest of the members don't seem to mind that Micah's lyrics are chalk full of spiritual connotations. They just seem to enjoy rocking out, as to their wide variety of fans. Micah was willing to talk about his beliefs in God, and so we shot the interview in an alley, off of Sunset Blvd.
This interview covers how Micah was raised and why he believes in Jesus Christ. The Bible explains that obedience to God is only possible by faith. Part of being obedient to God is acting on the Great Commission: to go across the lands spread the good news. This certainly includes speaking openly and lovingly as Micah does in this interview. Thank you Micah for showing us how easy it can be to saw what we believe and why.