MXPX Live Show and Interview EP 1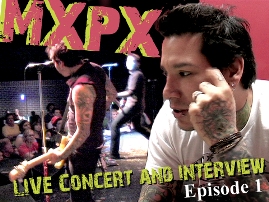 Enoch Magazine was given the opportunity to hang out with MXPX and film a concert they did at a venue called The Foundry in Joplin, MO. It was kinda off the map for us and on our way there, we stopped off to get some gas and view the local Amish! We tried to sneak some video of them, but they were totally staring at us and some of them actually looked kinda bad-a$$. So no Amish b-roll in this video.
Nate Smith was the original guy we had planned to interview the band, but he had a last minute scheduling issue. So Nate flew to Guatemala to do missions work, and we had to recruit Joel Maslin to do the interview. Joel was first featured in our original Skid Row trailer and has since been a part of all our Skid Row trips. MXPX was very patient with us and all three members did the interview, which was really cool. So stay tuned (or sign up on our e-mailer) as we will be making more videos from this event.