Ivoryline Video Interviews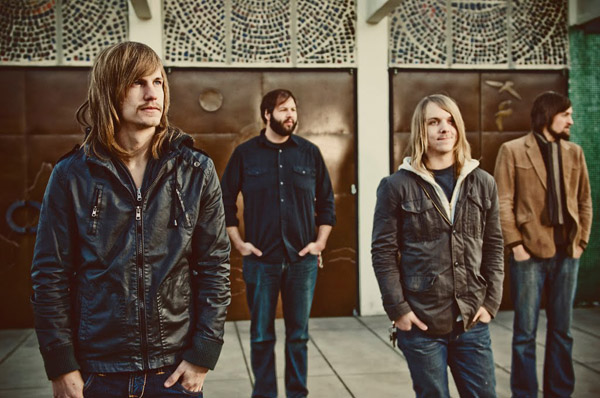 Episode 1 – Interview and full performance of "All You Ever Hear"
Episode 2 – Interview and full performance of "And the Truth Will End This"
Episode 3 – Interview and full performance of "Be Still and Breathe"
We also had the chance to catch up with Ivoryline 2 years later after the release of their second, record, Vessels. The interview was so good we spilt it up into 2 videos. Enjoy.
You can also read the print interview we did with them when we first started Enoch magazine 4 years ago.
With a love for cowboy boots and rock and roll, Tyler TX band Ivoryline brings a blend of music that speaks for itself with lyrics full of heartfelt compassion. Their break came when they opened for the band Jonezetta. Jonzetta's former manager loved them so much he passed their demo along to Tooth and Nail. After 7 months of writing and 28 days in the studio with Aaron Sprinkle, their album, "There came a Lion, " dropped in at number 15 on Billboard's Heatseekers chart and is one of Tooth and Nail's biggest debuts to date. With their hearts set on Christ and love for their fans, Ivoryline will take you face to face with some delightful Rock and Roll. Enoch Magazine recently had the chance to interview Ivoryline while they were on the road.
Enoch Magazine) You are "the new band on campus" so to speak. What are your expectations and goals as a band?
Ivoryline: We don't feel all that new. We have been at this for almost five years now. Being a new signed band and touring all over has been great. It's amazing to be able to tour full-time with the label supporting you and meeting kids who know your music. Our goal in this band has always been to write the best music we possibly can, pour our hearts and souls into it and into every live performance as well. I really don't know what's going to happen. In most ways, our expectations of what this band would do have already been surpassed. We just try to put God first and stay on the path he's made for us. That's the only way we'll survive. Working hard to get our music out to as many people as we can will always be a goal.
There are some "mini-goals" that we have as a band. We all want to tour with our favorite bands such as mewithoutYou, the Almost, paramore, as cities burn, jonezetta, jimmy eat world and foo fighters to name a few. We would also like to be on a reputable stage on Warped Tour. It'd also be a dream come true to play main stage at Cornerstone. Another goal we'd all like to see accomplished is international touring. We really want to tour Europe, Australia, and Japan. If we are able to reach any of those goals in the next year, we will freak out (in a good way).
Enoch Magazine) The album is done, out and you are touring. Where were you guys a year ago?
Ivoryline: A year ago today, we were freaking out with excitement about going into the studio with Aaron Sprinkle. He was pretty much our dream producer. We were also stoked to be able to live in Seattle for a month. We'd always wanted to go there and had high expectations of what the city had to offer. We ended up not wanting to leave. For some reason, Seattle just seemed like the pinnacle of places to go record. The fact that we are all huge coffee drinkers definitely bolstered Seattle's appeal.
To be honest, my experience in Seattle actually was better than my expectations. Yeah, I had the best coffee of my life, but more than that, I learned so much about myself and God during that month. The beauty of the city is undeniable. It seemed as if God was revealing himself to me and showing me that he knew exactly where I was and placed me there for a reason. Often it was through seemingly small "coincidences" and answers to prayer.
Also, a year ago we were making sure our songs were how we wanted them and probably still finishing up 1 or 2 riffs. There were times when we were worried about not having enough songs for the record. So we were writing pretty much until the day we left.
Enoch Magazine) What's Tyler Texas like? What did Tyler TX contribute to Ivoryline?
Ivoryline: Tyler is a small town trying to be a big city, and a city trying to stay a small town. For example, it has worse traffic than Dallas a lot of the time, yet it's small enough to not have anything that stays open past midnight except Ihop. The worst thing about it from a musician's perspective is that there is no real venue. There are just churches that throw shows from time to time.
I've enjoyed growing up there. I had made some lifelong friends including the guys in the band. Tyler was definitely a fun place to start up and grow. Luckily, there were a couple functioning venues when we first got started where we were able to play and start developing a fan-base. We just played as many shows in and around Tyler as we could, and the word was able to spread relatively fast because people in Tyler love to talk. There's not really much else to do, except go up to starbucks, enjoy a green tea frappucino, and chat. Our families and fans from Tyler have contributed to our band more than we could ever explain. We wouldn't be a band still without them.
Enoch Magazine) If we described you as a cross between FutherSeemsForever and Anberlin would you be stoked on that summation?
Ivoryline: Yeah, I would. Anytime someone compares us to talented bands such as those, we are flattered. Almost always, we have a hard time agreeing with the comparisons because we don't really think we sound that much like anybody. We have gotten some crazy comparisons and ones that make more sense. Basically, if someone is comparing us to a band they like it's a compliment, and that's enough for me. It doesn't matter if I think we sound a lot like them or nothing like them. In this case though, we really do like both those bands and they are both very talented, obviously.

Enoch Magazine) Did the Ivoryline sound we hear in "There Came A Lion" change from your sound before the recording and production process?
Ivoryline: Our sound didn't change at all. The way our sound was captured by Randy T (our engineer) and Aaron Sprinkle obviously contributed vastly to how the record turned out sonically. But as far as our song-writing and our style, we didn't change at all. We actually expected Aaron to dissect and change our songs, but he didn't at all. That's what made the experience so perfect is that he was actually a fan of our songs and just tried to make them the best they could be.
Enoch Magazine) How long has the band been together and what are some "ivoryline" rituals?
Ivoryline: We originally formed in the summer of 2003 under the name "Dead End Driveway." Dusty, Robert, and I (Jeremy) are the only remaining original members. We went through some member changes and ended up changing our name to "Ivoryline" at the beginning of 2005. Wes joined shortly after that so it's been just about three years now with our current lineup.
Since our first show, we have always prayed and stretched right before we play. This has come to be know as "pre-game." During our first pre-game, after we stretched and prayed we all put our hands in together and yelled "ca-buh-nee-yay-ha!" It's from the movie "Saving Silverman." We continued to say that before every show which was a ritual that probably lasted about a year. Now, we still yell a word or a phrase at the end of every pre-game, but it varies on what we say. We throw in a "cabuhneeyayha" every few shows when we can't think of anything unique.
Enoch Magazine) From a marketing aspect, the album looks like it's got a lot behind it. Tell us a little about the cover art we see on the album and your site. And please don't leave out a story about a lion…

Ivoryline: The album art was done by Don Clark of Invisible Creature. Basically, we told him what the album title meant, and he came up with several treatment ideas for the art direction. We initially picked a different treatment that was photography based, but it didn't pan out because of a budget issue. So, our next choice was the treatment you see. Things definitely worked out for the best because we absolutely love the artwork and the treatment of the lion cover was Don's favorite, so I think he put everything he could into it and had a blast making it.
A lion story huh…Well a lot of people ask us if Robert's tattoo inspired the album title and artwork or vice versa. The funny thing is that the answer is neither. The tattoo on Robert's arm is inspired by the Chronicles of Narnia (Aslan) and I came up with the album title from a completely different source. It just happened to work out nicely that the lion theme was so present in our band.
Enoch Magazine) Is there a story or significant meaning about the band's name?
Ivoryline: The meaning isn't terribly significant apart from that it represents us in word form. I think that's all a good name should do is match your bands look and feel. The name was inspired by a death cab for cutie song. The lyric states "ivory lines lead…" and when I heard it I honestly thought it sounded cool and intriguing. I decided to put the two words together to make the name it's own entity. Once I had the idea, I brought the name idea to each member of the band one at a time. They all really liked the idea, which hadn't happened yet and we had been trying to decide on a name for months. So yeah, that was confirmation that "ivoryline" was to be our name.
Enoch Magazine) What is your philosophy on Christians in a band vs. being a Christian band? What are some expectations based on that principle that you struggle with delivering and/or not delivering?
Ivoryline: It's unfortunate that this has become such a big issue amongst Christians. Non-christians never ask that question like that. Honestly, it is a very confusing subject and we try to avoid it because most of the times it seems to be more of a stumbling block than anything else. We are Christian guys. We are in a rock band. We decided from the beginning not to stick a label on ourselves that says we are a "Christian band" or we make "Christian music." I feel that it is far more powerful and real if people actually see you living out your Christian faith than it would be to throw a label at them. Another problem is that it seems that most "Christian music" is made and marketed only to other Christians. This is not our mission. Of course, we love when other Christians like our music or find inspiration in the lyrics, but we are mainly concerned with playing music for everybody we possibly can, which includes all secular markets. We do not want to limit ourselves in anyway by labeling ourselves. People are going to put labels on you anyway. We don't need to do it ourselves. We just try to stay true to our beliefs and live sincere, engaged lives while doing our best to walk in God's will.
Enoch Magazine) I've heard that a lot of bands on Tooth and Nail go through hell/eck touring and meeting the demands of the fans, the label and the promoters. Have you met any stress like that thus far?

Ivoryline: The only real stress we've meet so far just has to do with the nature of touring itself; being away from home and your friends and family for extended periods of time, trying to stay healthy, and giving it all you can on stage every night. This has proved to be quite a task, but fortunately we love what we do, and we are learning more everyday to lean on God for our strength and not on ourselves.
The fans we have encountered for the most part have been very accepting of us and our music. There are some nights that are harder than others but it's the hard nights where you really have the opportunity to grow in patience and endurance. Similarly, our label has been incredibly supportive of us not just business wise, but as people. We are very blessed to have them backing us up.
Enoch Magazine) So many times, Christians fall under the influence of "doing things for Christ" instead of just "knowing and growing" in Christ. Do you agree with that loaded statement and what perspectives can you add?

Ivoryline: Well yeah, sometimes people can be obsessed with doing or not doing things and their personal relationship with God will suffer because of it. I have come to realize that really the only thing that matters is your relationship with Jesus, and everything else that you do or don't do will flow naturally out of that relationship. We are called to be rooted and grounded in love, and when we're rooted in Christ's love, the good works that you do will spring from God's unending source.
Enoch Magazine) How long can you enjoy playing and performing the songs you've written before you feel the need to write new stuff? And how also can a label/record deal effect that feeling?
Ivoryline: A long time. I still enjoying playing all the songs that are on our new record and some of them we had written a year or two before the release. Even "retired songs" we don't play anymore, we still enjoyed playing them. We just knew it was time to move on and make room for the new songs. I'm sure if we went back and played them now, we wouldn't be that enamored with the old songs. We always feel the desire to write new songs though. The problem is just actually finding the time while on tour to make it happen. We are looking forward to writing new stuff though. It's definitely one of our biggest passions in this band.
So far the label hasn't had any effect on this subject. Maybe after we tour on this record for a year, our label will start pushing us to right new stuff, but we will feel the same way anyway.
Enoch Magazine) Write ONLY the Answer to a question you wish we would have asked, but didn't….Then readers can make their best guess as to what that question was….
Ivoryline: I know I wouldn't make it through touring without reading my Bible and trying to learn something everyday. Some authors that I have really enjoyed and that have challenged me are John Eldredge, Shaine Claiborne, CS Lewis, Lee Strobel, and Oswald Chambers. For me, there is nothing more peaceful and refreshing than prayer and reading a good book.
Enoch Magazine: Thank you Ivoryline for doing this interview with us! Hopefully people will see how dedicated you are by reading this!!!