Anarbor Interview in Las Vegas
Take Action Tour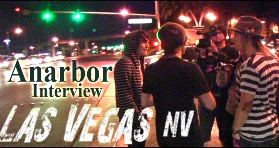 Enoch Magazine made it's first trip to Las Vegas. We did a lot of interviews with awesome people and ministries located in sin city. But before our trip ended, we were able to go backstage at House of Blues, Mandalay Bay and interview four bands from the Take Action Tour. All four bands (Anarbor, Meg and Dia, Breathe Carolina and Every Avenue) were super nice and we had a great time getting to know them and seeing a glimpse of their world.
However, we unexpectedly ran into a lot of legal problems with the House of Blues. They stalled our first interview for 45 min and and then refused to allow us in the venue with video cameras. We literally were walked in and out of the venue multiple times as security and management stumbled over their pride, rules and professionalism. We finally had to get the tour manager for the whole Take Action Tour to come out and plead our case.
This type of "dark" resistance comes upon us from time to time. As I was being escorted out for the 3rd time, Nate turned to me and said, "You think we need to throw up a prayer?" I was so preoccupied with cameras, security and time schedules that I had completely forgotten about praying. So as I was being dragged back to the box office, I prayed that God would handle business. Usually my prayers don't get the "VIP" treatment, but thankfully this one did. By the time I was dragged back to the main entrance, I was mysteriously turned around and escorted back "IN" to the venue. They finally gave us the passes we were supposed to get an hour ago and everything was cool. Well, not totally…The final "you one this battle, but we'll be back" rule they threw at us was: You not allowed to film on their premises. So that's why these videos are filmed outside and on tour buses, (which makes them cooler anyway).