Tonic Show Review – Harrah's Ak-Chin Hotel & Casino – Maricopa, AZ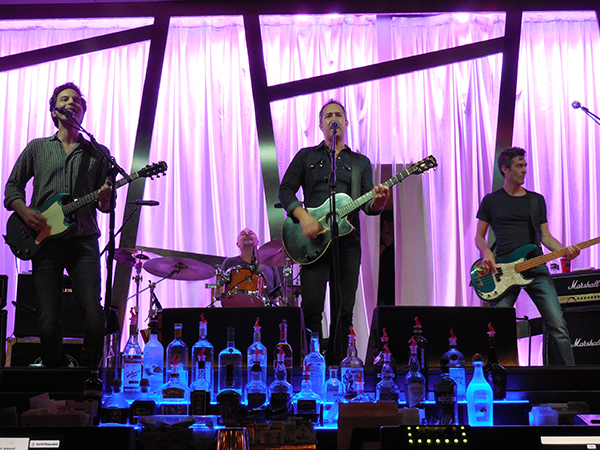 Covering nineties alternative rock band Tonic at The Lounge in Harrah's Ak-Chin Hotel & Casino in Maricopa, Arizona, was one of the more unique concert experiences that I have encountered. Nearly every aspect associated with this event contained an element of unexpectedness starting with the journey to the show. While driving northwest from Tucson, a strong line of storms created a massive haboob that lowered visibility for drivers along the interstates. Determined to arrive at the show on time, I was fascinated to see this natural phenomenon transform the sun into an eerie moon-colored sphere and create an atmosphere resembling another planet. Even though the GPS originally recommended a route down a dirt road through the ongoing dust storm, I finally arrived to the venue isolated somewhere in the middle of the Arizona desert.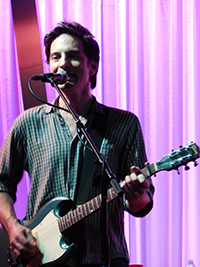 After surviving the wind gusts and finding shelter in the building, it was apparent that Tonic would be performing on an intimate stage placed at one of the ends of the large room, completely open to the entire casino. Because there was no box office to receive the tickets, I was instructed by the cashier to find my passes for both of Tonic's shows near the front door. Both shows?!?!? Apparently Tonic was scheduled to play two shows on the same night – one at 8:00pm and another at 10:00pm! I returned to the entrance and found an employee giving away FREE wristbands that served as the tickets for the small area in front of the stage.
Once I found my way back to The Lounge "venue," a full bar with interactive gambling games separated the few rows of seats from the stage, as well as bartenders slaving away at making drinks to accommodate a large portion of the casino. In addition, no one knew whether Tonic would be playing two sets of the same material or separate sets with different songs. I would have never anticipated this series of events!
As the curtain opened, the four current members of Tonic walked onto the stage with a delighted grin on each of their faces. For a band that has earned two Grammy nominations, it must have been a bit of a surprise for them to see the arrangements for this gig especially with the bar's liquor supply placed only inches from their feet. Without any hesitation, they opened the set with their first major hit, "Open Up Your Eyes," from the 1996 debut album Lemon Parade. For the fans that received passes to be near the front, this was the perfect rock anthem to start the evening. Even though Tonic was playing to a relatively small attentive audience, their spirits were high with energy for those who came to hear their music.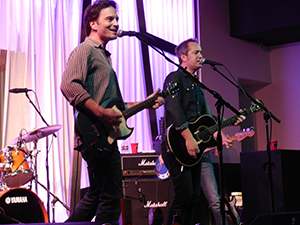 Throughout the first set, they performed songs primarily from their first two records, including the #1 hit "If You Could Only See" and "You Wanted More," which was featured in the American Pie film. Other standout songs were "Casual Affair," "Sugar," "Mountain," "Take Me As I Am," and "Soldier's Daughter." Following their first set of singles and fan-favorites, Tonic's second set was much more informal, consisting of different songs with "deep cuts" and requests from the audience. It was a special night for all Tonic fans that made the trip.
While Tonic gets typically thrown into the mix of nineties alternative bands alongside Third Eye Blind, Semisonic, Dishwalla, and Vertical Horizon, their songs are full of rich music qualities that place them above many of the other groups that are usually remembered for their one or two major hits. Following their brief hiatus after the first three records, Tonic returned in late-2008 by releasing another fantastic album within a couple years, and they continue to remain active by playing shows throughout the country. When the members are not performing with Tonic, some have found success with others musical endeavors. Lead singer Emerson Hart has pursued a solo career, and he just recently released his second record, Beauty in Disrepair. Also, guitarist Jeff Russo was just recently nominated for an Emmy for his work on the score to FX drama Fargo.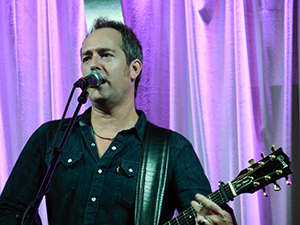 It is refreshing to notice the successes of these musicians, and seeing them perform songs from their nineties' roots is always a pleasure. Finally, to add one more moment of surprise to the night at Harrah's Ak-Chin, Emerson Hart jokingly described what he saw one casino-goer say to another friend during the performance: "This group sounds just like the actual band!" While even casual listeners were caught in disbelief, everyone in the building witnessed an unexpected evening.
written by Jeff Hewitt