Toad the Wet Sprocket – The Marquee Theatre – Tempe, AZ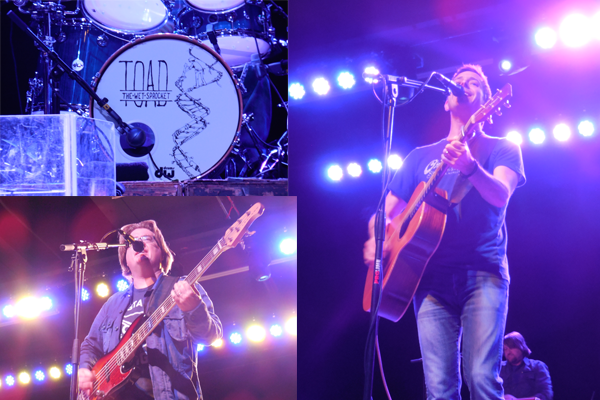 written by Jeff Hewitt
Celebrating the twenty-fifth anniversary of the release of their debut album, alternative college rock band Toad The Wet Sprocket began their 2014 West Coast tour at The Marquee Theatre in Tempe, Arizona. Featuring the four original members from Santa Barbara, California, they are currently supporting their first record since 1997 titled New Constellation. Through a Kickstarter campaign, they were able to raise $50,000 from their supporting fans in less than twenty hours to help fund the new album. After breaking up in 1998, Toad reunited on occasion throughout the 2000s, and they made it an official full-time reunion in 2010 as they began crafting new songs.
Released in October 2013, the material on New Constellation starts exactly where the band left off with their signature melodic, reflective, and sentimental songwriting. The sixteen-year span between this record and the last one was completely worth the wait for their dedicated fans. Spanning across their expansive list of timeless songs, the first show of this tour took the middle-aged audience through a journey of old favorites and new classics. Whether the song was two decades old or written only a couple years ago, Toad The Wet Sprocket's sound remains fresh and wiser.
Throughout their set, several new tunes were scattered between all of their greatest songs from the 90s. The most recent single "The Moment" opened the show with lead singer Glen Phillips' distinctive voice and guitarist Todd Nichols' thoughtful melodic lines. Other standout tunes from their latest release included "I'll Bet On You," "California Wasted," "Rare Bird," and the title track. Several songs from their 1994 album Dulcinea were brought to life such as "Woodburning," "Crowing," and "Windmills," among others. As expected, they played many of their biggest hits including "All I Want," "Good Intentions," and "Come Down." Nichols also took over lead vocals on "Inside" and "Crazy Life." One of their most up-tempo singles "Fall Down" ended the main portion of the set, and they concluded with an encore consisting of the bittersweet "Something's Always Wrong," a new rocker titled "I'll Bet On You," and their 1992 smash hit "Walk On The Ocean."
An additional treat was found at their merchandise table; several rare items were for sale including Glen Phillips' independent releases, both albums from some of the members' side project Lapdog, and a best-of collection of re-recorded favorites called All You Want. Fans of Toad The Wet Sprocket have anticipated this long-awaited reunion, and the joy shared by everyone inside the venue was very much apparent throughout the evening. If Toad travels to a city near you, do yourself a favor and experience their intimate live set. For those who have yet to discover Toad The Wet Sprocket, the sense of hopefulness and beauty within their music will most likely have a lasting effect on your spirit.
The Moment (New Constellation)
Woodburning (Dulcinea)
Good Intentions (Friends/In Light Syrup)
Crowing (Dulcinea)
Windmills (Dulcinea)
New Constellation (New Constellation)
Inside (Dulcinea)
All I Want (Fear)
Dam Would Break (Coil)
Come Back Down (Pale)
Nightingale Song (Fear)
Crazy Life (Empire Records/Coil)
Rare Bird (New Constellation)
Is It For Me (Fear)
California Wasted (New Constellation)
Come Down (Coil)
Brother (So I Married An Axe Murderer/In Light Syrup)
Fall Down (Dulcinea)
Something's Always Wrong (Dulcinea)
I'll Bet On You (New Constellation)
Walk On The Ocean (Fear)