The Winery Dogs – The Marquee Theatre – Tempe, AZ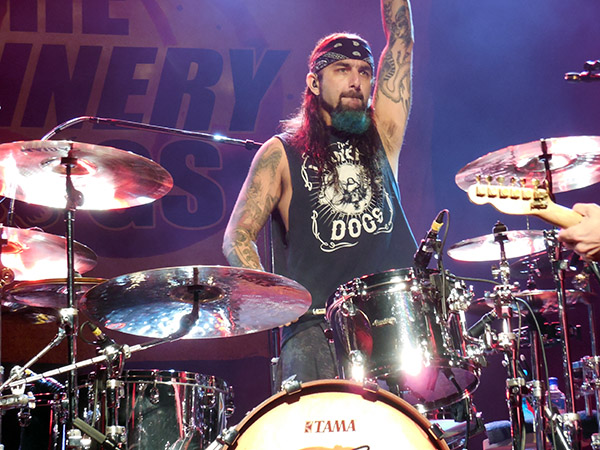 There is a stereotype believed that many "supergroups" are collaborations of established musicians that are usually short-lived. It is apparent that The Winery Dogs do not have plans to fall into this stereotype, as they are destined to prove otherwise. Without a doubt, The Winery Dogs definitely fit within the category of a supergroup, but this trio is making a musical statement that is on track to continue for many years to come. Comprised of drummer Mike Portnoy (formerly of Dream Theater, Liquid Tension Experiment, and Transatlantic), bassist Billy Sheehan (formerly with Mr. Big, Steve Vai, and David Lee Roth), and vocalist & guitarist Richie Kotzen (solo artist and former member of Poison and Mr. Big), these three masters of their respective instruments held nothing back at The Marquee Theatre in Tempe, Arizona.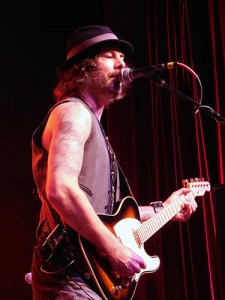 With a fresh bluesy and hard rock edge to their sound, The Winery Dogs played every track from their straightforward rock and roll debut record.
Although these three artists are known commonly as musical technicians in the progressive genre, it was refreshing to see them perform with a new and refined groove that pays homage to their greatest influences. The Winery Dogs have created their own old-school classic rock style inspired by Led Zeppelin, Jimi Hendrix, The Rolling Stones, and Cream as well as more recent bands such as Soundgarden, The Black Crowes, and Alice In Chains.
Having seen Mike Portnoy perform with Dream Theater for so many years, it has become a tradition for fans to wear the band's tour shirts from years past. Even though his has moved on from that group, this custom continues to live on with fans of each of the three members. Collectively, Portnoy, Sheehan, and Kotzen have played with countless bands, side projects, and solo careers, thus creating a sea of supporters donned in Dream Theater, G3, or Mr. Big shirts, sparking up conversations about their experiences of jaw-dropping performances by each member from decades ago. While The Winery Dogs' self-titled release continues to get better with each listen, the live performance of each song contained even more energy and passion. Tracks such as "Elevate," "Time Machine," "I'm No Angel," and the closer "Desire" are just a few of the gems that have already become crowd favorites.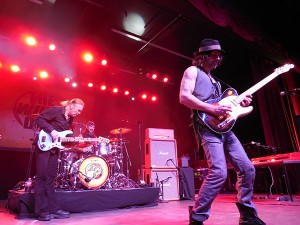 During the set, an animated Mike Portnoy incorporated some of his signature licks with several crowd-pleasing percussive "tricks," while Billy Sheehan exposed his virtuosic bass wizardry during a six-minute solo, and Richie Kotzen played a song from his own repertoire, "Doin' What The Devil Says To Do." Following a brief pause, The Winery Dogs made their way back onto the stage and performed an encore with the reflective "Regret" and Sheehan's up-tempo "Shyboy," his own contribution to David Lee Roth's solo catalog. If you are searching for a band that knows how to "keep the rock alive," look no further and check out The Winery Dogs' debut album and their live show in a city near you.
These three artists have a track record of quality rock n' roll, embracing crowds with their enthusiasm and talents. You'll only wish they had a second album already!
Setlist:
Elevate
Criminal
We Are One
One More Time
Time Machine
Damaged
Six Feet Deeper / Hey Joe
The Other Side
Billy Sheehan Bass Solo
You Saved Me
Not Hopeless
Doin' What The Devil Says To Do (Richie Kotzen song)
I'm No Angel
The Dying
Desire
Encore:
Regret
Shyboy (Billy Sheehan/David Lee Roth song)