Matt Pond – The Marquee Theatre – Tempe AZ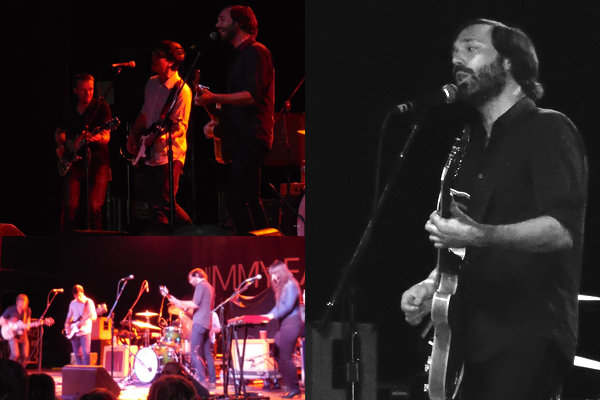 written by Jeff Hewitt
10.3 million people throughout the country were spending the evening of Sunday, September 29th in front of their television screens, glued to the series finale of AMC's Breaking Bad. Yet for several hundred people in Tempe, Arizona, they were about to experience their own blockbuster of a rock concert at the Marquee Theatre on Mill Avenue. As Matt Pond and his band (including long-time collaborator and guitarist Chris Hansen) stepped onto the stage as the opening act for the hometown favorite Jimmy Eat World, someone in the audience immediately shouted out a Breaking Bad reference. Before a single chord was strummed, Pond admitted that he had not watched the show. Immediately, several whimsical boos erupted from the crowd. Surprised by this commotion, he quickly replied with a comeback exclaiming, "Hey, I've been busy… and I like girls!" It was the perfect response to bring the audience to laughter and finally begin his short set of well-crafted songs.
Originally based in New York and formed in Philadelphia, Matt Pond recently released his critically acclaimed album The Lives Inside The Lines In Your Hand. Although he has released nine other LPs under the name 'matt pond PA,' this record is the first one credited to Pond alone. In addition to this release, he is also supporting his conceptualized three-part EP, The Threeep. Matt Pond's style of music has always been melancholy with poetic themes, but his newest songs contain more up-tempo grooves and catchy hooks that still include his signature bittersweet mood. It is apparent that Pond's musical influences stem from American legends such as Tom Petty and Bruce Springsteen, but his sound is also similar to more recent acts like Pete Yorn, Band Of Horses, and The Frames. Some of the standout songs in Matt Pond's set were "Let Me Live," "Bring Back The Orchestra," "Starlet," and "Hole In My Heart."
To end his portion of the show, Pond closed with one of his most recent singles, "Love To Get Used." Typically thrown into the mix of alternative-indie-pop artists, Matt Pond's lengthy career has helped establish himself as one of the more tasteful musicians yet to breakout into the mainstream. Just as the Breaking Bad finale lived up to its hype (the following day on my DVR), Matt Pond was also received with tremendous praise for supporting Jimmy Eat World's highly anticipated Arizona homecoming.