Less Than Jake – Show Review Granada Lawrence, KS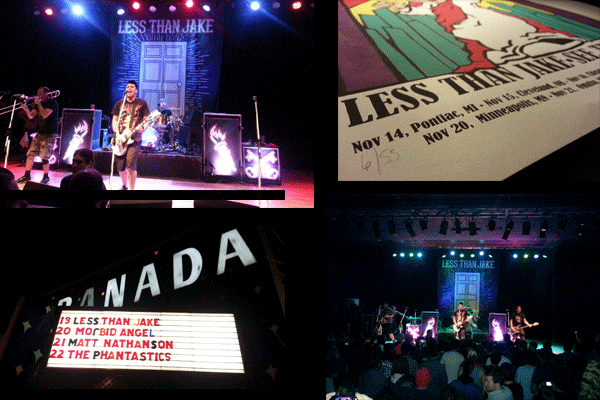 Less Than Jake is one of those bands I've seen at least 20 times. They've never let me down, always taken time to hang out with their fans and show up with some of the coolest and bizarre merch you've ever seen. The Show in Lawrence, KS at the Granada was no different. They showed up, stole the crowd, and rocked out pretty hard.
They opened the set with Good Enough, from their latest album See the Light (Fat Wreck Chords) and the crowd was pleased. I've always embraced every Less Than Jake new release with open arms and the latest one was no different. It should be noted that the crowd was a mix of young and old that were willing to unite to enjoy some Florida Punk/Ska.
Right after the opener Less Than Jake went straight into Automatic and the crowd went crazy. The circle pit was off and racing like Dale Earnhardt, JR in the Daytona 400. After a few more classics Less Than Jake began they're onstage banter their known so well for. This included explaining the overseas roadie exchange program they were participating in. After The Science of Selling Yourself Short they noticed, a kid and his Dad were hanging out in the pit together. They then brought them up on stage, thanked the Dad for bringing his son to the Less Than Jake Show, gave him a beer, and drew a sharpie mustache on his son. I wonder if he wore it school the next day and told the story over and over again.
By the time they hit All my Best Friends are Metalhead's they were truly giving one of the best performances I'd ever seen them put on. It was like they had wined and dined us at the finest restaurant in town.
They opened their encore with Al's war, an old classic, and went right into Johnny Quest thinks we're Sellouts which the crowd had chanted for as we waited for them to return to for the encore. They closed the night with Gainesville Rock City, which is a simple tribute to their hometown.
Overall they played a great set which included a lot of songs I hadn't seen them play live before. Their live set was so epic I walked out of the venue with a new Less Than Jake poster to remember this truly great night.
Check out their latest release See the Light on Fat Wreck Chords.