Grace Potter and the Nocturnals – The Rialto Theatre – Tucson, AZ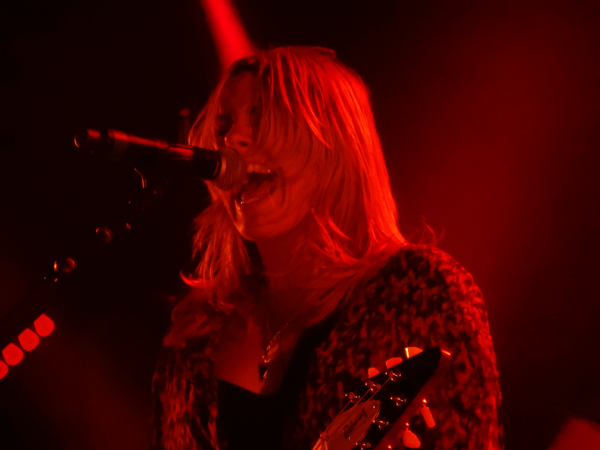 The Rialto Theatre
Tucson, AZ – June 5, 2013
Written by Jeff Hewitt
Hailing from the northeastern state of Vermont, Grace Potter and the Nocturnals returned to Tucson's Rialto Theatre in the Sonoran Desert for the first time in nearly five years. Immediately with the opening number "Mastermind," the stunning Potter took control of the evening with her powerful, bluesy voice similar to that of Janis Joplin, Susan Tedeschi, and Bonnie Raitt. Her sexy appeal was augmented every time she strapped on her Gibson Flying V or when she stood at her Hammond B3. The Nocturnals, occasionally overshadowed by their young and talented frontwoman, need to be credited for their vibrant energy as well. Although the Nocturnals may not be the most virtuosic musicians, their tight chemistry allows them to become the edgy rock and roll quartet that accompanies Potter's gritty vocals with precision.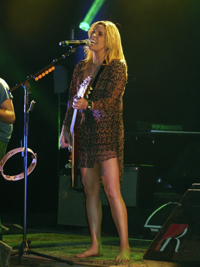 Defining the musical style of Grace Potter and the Nocturnal with only a few adjectives is seemingly difficult. Their sound is purely American, consisting of styles with blues, pop, roots rock, country, and Southern rock. Unlike other current artists, Grace Potter and the Nocturnals are able to mold these genres together convincingly into a collection of well-crafted songs. At one point during their set, the band nearly broke into a percussion ensemble when all five members played an unpredictable groove collectively around the entire drumset. There were even moments when it felt reminiscent of a show from legendary bands such as Tom Petty and the Heartbreakers or The Band, only to see a beautiful lead singer front and center leading this group.
Grace Potter and the Nocturnals have reached a point in their career where they have a wealth of stand-out tunes, forcing them to omit a few favorites each night along the tour. As they travel non-stop in support of their most recent one-year-old record, The Lion The Beast The Beat, the band is able to make a different setlist for every show throughout the country. Classic Nocturnals' tunes including "Ah Mary," "Nothing But The Water," and "Paris (Ooh La La)" were standard sing-a-longs, as well as recent favorites "Never Go Back,"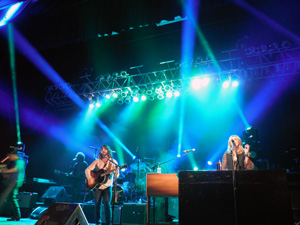 "Parachute Heart," and "Keepsake." In addition, a new song called "Devil's Train" from the forthcoming soundtrack to The Lone Ranger featured the entire band along the edge of the stage. For the encore, a soulful rendition of "Stars" and the title track from their newest album were played to close out the set.
Grace Potter and the Nocturnals seem to find a way of keeping their performances exciting, and this clearly credits their rising success by writing songs that are widely accessible and emotionally moving to anyone who enjoys good music.