Built to Spill – Show Review – Club Congress – Tucson, AZ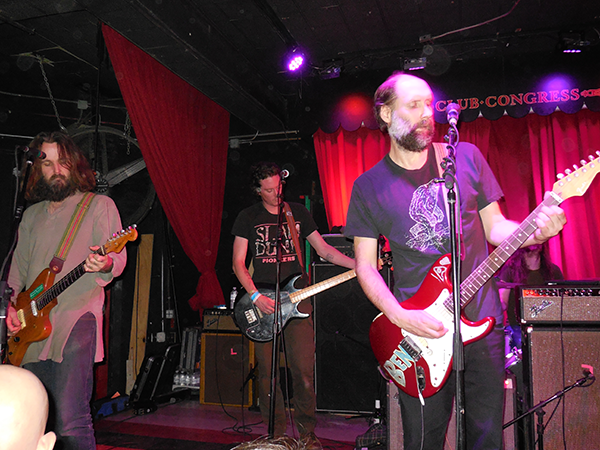 Nearing the end of their six-week tour across the United States, indie rock legends Built To Spill arrived to a sold-out house at Club Congress located in the historic Hotel Congress in Downtown Tucson, Arizona. Approximately three-hundred people crowded into this intimate venue to witness the band who is credited for influencing such recent bands as The Ataris, Death Cab For Cutie, The Strokes, and The Shins. Regarded as one of the most popular indie-alternative rock groups of the 90s, Built To Spill has continued to connect with audiences of all ages with their combined styles of rock, pop, folk, and blues. Much of the crowd consisted of college students who were probably just learning to walk at the time of their first release. This speaks to the band's ability to continue to make music that speaks to new and old fans alike. Throughout the past twenty years with seven full-length records, Built To Spill's sound has always had its own unique identity that contain similarities to their influences found in the music of Pavement, Dinosaur Jr., and even Neil Young.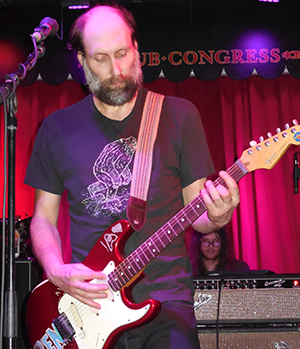 As they opened with "Goin' Against Your Mind," it was apparent that much of the sound on stage was not quite to the approval of the musicians. Lead singer and guitarist Doug Martsch announced to the audience that their bus had broke down on the way to Tucson, and they were unable to do a soundcheck prior to the show. This led to several monitor adjustments between the first several songs, which unfortunately put a damper on the flow of the first half of their set. Once the mix was to their liking, the energy of the room finally ignited. Favorites such as "Center Of The Universe," "Else," and "Carry The Zero," from their critically acclaimed album from 1999, Keep It Like A Secret, even prompted several mosh pits within the small floor space near the stage. Other standout songs included "In The Morning" and "Big Dipper" from their first major release, There's Nothing Wrong With Love. Built To Spill also made sure to play at least one song from almost all of their other albums.
The band's encore consisted of a tradition that happens at most of their shows; they performed covers of Blue Öyster Cult's "(Don't Fear) The Reaper" and The Smiths' "How Soon Is Now?" To end the show, they closed with the fan-favorite "Car" from 1994. Having celebrated their twentieth year as a band, Built To Spill continues to bring an aggressive, quirky, and catchy performance to audiences who recognize their important role in the development of today's indie music scene.
Written by Jeff Hewitt