Alkaline Trio – Show Review – Diamond Ballroom Oklahoma City, OK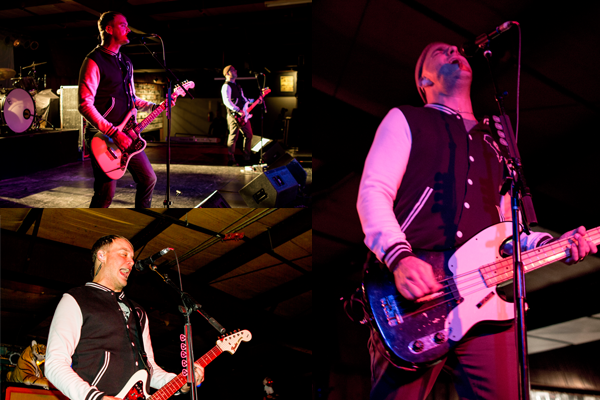 I've can remember seeing Alkaline Trio back in 2001 when they opened up for Hot Rod Circuit and No Motiv on the Vagrant Records Tour. I've followed their musical career, bought every record, and have been stoked to watch their sound and live performances get only better and better. When I was given the chance to catch Alkaline Trio In Oklahoma City at the Diamond Ballroom I was stoked. They just released their latest record, My Shame is True (Epitaph Records) in the Spring and I was ready to see them bring it to life on tour.
They opened their set with Cringe and the crowd was off and rocking. The band had energy, and were all dressed in matching lettermen jackets that said Alkaline Trio. Next, they rocked through Take Lots with Alcohol and went straight into WarBrain. I've never seem play this live and it was a real treat. During the first 3 songs it was apparent that Matt Skiba, was frustrated with the sound he was hearing on stage. He wasn't very talkative and eventually got upset at the stage manager for the lights blinding him.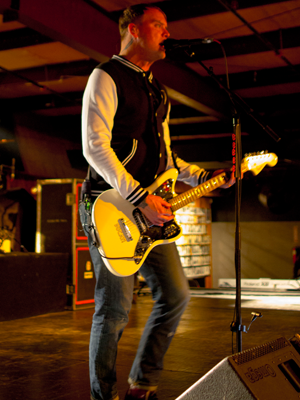 When they played I Wanna Be a Warhol, it was clear Matt Skiba, was back on his game. He was smiling, beginning to banter with the crowd, and ready to play his heart out through the rest of the set. After a few other classics they played Kiss You to Death , from My Shame is True. It was flawless and the crowd fully embraced this newer song. Dan Andriano, was so full of emotion as he rocked out and the crowd loved it.
As they went into the opening notes of Queen of Pain Matt Skiba began to have guitar problems and he struggled until the bridge to get them fixed. The strong bass skills of Dan Andriano carried the song and they didn't miss a single beat. As the set went on it seemed they were playing louder and faster with the same emotion they had back in 2001. As they played Sadie, it was a nice break in the set and the crowd cheered as the opening notes rang out. Dan Andriano, had his best singing performance of the night during Young Lovers. Alkaline Trio has always had the perfect blend of 2 singers who voices fit perfectly together but are distinctly different.
As the set came to a close they gave the crowd a chance to vote on whether they should close with My Friend Peter or Radio. Radio was the crowd favorite and they played it with so much passion you'd have think they just wrote it last week. Overall, the beginning of the set was a battle for the Alkaline Trio guys but after a few songs they found their groove. They played a lot of songs I've never seen them play live and it made for a night to remember. With such a huge discography, these guys put together a great set list that every fan would be happy to hear live.
Don't hesitate to check out their latest release My Shame is True on Epitaph Records.
written by Nate Smith