Voltaire's Vision
"Pastoring the City from the Driver's Seat: the Secret of Pastor Joseph Voltaire" written by Jeremy Jackson
There is a pastor in Haiti who comes from a non-Christian family. He's older now. He has three children in their early twenties. There are two young girls who live at his house that he provides for, because their parents either aren't involved or have passed away. He also supports two maids who work in the house and his wife. Supporting a family in Haiti cannot be easy. The everyday things that come for those in the West so easily just don't come naturally in Haiti – water, electricity, functional plumbing. All of these things are either extremely difficult to acquire and maintain or impossible because of one's location or the lack of government provision.
The secret of a great man is his vision.
I was first introduced to Pastor Voltaire on Sunday night as I entered the front of Cap-Haitien's First Baptist church (the city's largest and oldest) with the guest preacher and a missions director. He came forward to our row with a purposeful gait and as the church was worshiping kindly welcomed us. The pastor wears flowing garments, the most comfortable form of clothing in the Haitian tropical climate. He's smaller than most men in physical size, but larger in influence and compassion by far. He prefers to speak Creole, the native Haitian tongue, but he is happy to speak French or English with you if you prefer.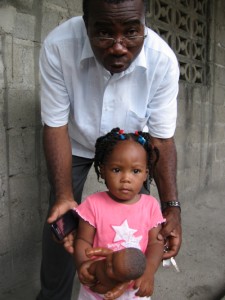 To most outsiders, Haiti is a place of chaos. Voltaire, as he's called by some who know him well, is a man who seems to soar above it all. Somehow he manages to give you his attention and get things done while he still navigates the chaos of everyday life. Driving in Haiti is extremely difficult. There are numerous holes in the roads and major strips of the pavement are torn up. There are no lines marking the middle of the road or stoplights in Cap-Haitien. The cars whiz within inches of each other, crossing from one side of the road to the other if necessary. There are pedestrians walking across and along the sides of the roads, and there are numerous motor bicycles that sometimes hold up to four people (including children). These elements make for a somewhat intense driving experience, and would seem to limit one's ability to focus on anything other than driving. One day, as Pastor Voltaire was managing all of these factors, driving myself and another, we took a turn down a market road. The road was packed with people on both sides. There was very little space for cars. As we came up towards one car that was passing in the opposite direction, Voltaire got out a hundred-dollar US bill. His window rolled down and the window of the vehicle passing also went down. The two in the car waved to us – it was his friend, Elizee. Elizee handed him Haitian money in exchange for the American cash. They smiled, waved, and we passed. How exactly that expertly
devised meeting had been arranged, I never found out. Besides this, Pastor Voltaire is able to manage use his time in the car to tell funny jokes, and encourage fellow pastors. Numerous times while riding with him, I saw the pastor stop and give rides to older citizens who needed transportation, and hand out money to acquaintances in need. One time he was making a stop to find someone who could give a tennis ball for his adopted daughter. These things are done while pastoring from the drivers' seat of a beat up pick-up truck that needs a new transmission. A new transmission costs at least $500 US.
Pastoring is not a job for wimps. Pastors take hits. Sadly, these hits are most often from other pastoral leaders. Words are often spoken behind backs. The perceived need to survive as an institutional entity often causes the misconception among spiritual leaders that they need to compete with other Christian organizations in close proximity. Pastoring in a place like Haiti must be even more difficult. There is competition for funds from outside. Pastors who have white visitors are perceived as being "big", and more important than others. Voltaire seems unconcerned about these issues, not letting selfish ambition or competition weigh him down. He has the experience to be able to know how to manage these issues. He's secure in himself. He knows that "God will provide", and trusts in the principles of God's kingdom.
His management of the church and his preaching responsibilities (which are numerous on a weekly basis) are only part of his responsibility as a pastor. Voltaire's work as a pastor has lead his church into places of ministry that most other churches would never venture. In addition to preaching the gospel and starting new churches, Voltaire's church has taken on the noble and bold purpose of pastoring and caring for their home city, Cap-Haitien. Cap-Haitien, like most cities in Haiti, is a city that desperately needs care and stewardship. Having severe problems in sanitation, housing, transportation networks, reliable power supply, education and employment Cap-Haitien is in need of total transformation. The problems of the city, however, are no match for the vision of Voltaire's church.
In an interview, the pastor tells me that in Haiti the church has to become the government. Through story after story, he gives examples of how his congregation has become the city's security, garbage collection department, housing agency, department of education and more. Once there was a girl in his church that had been kidnapped. Her father came to the pastors for help. They went and told the police, who said they'd keep their eyes open. The problem was urgent so Pastor Voltaire called his network of pastors. It turned out that one pastor from a neighboring village had heard word of a strange couple – young girl who looked naïve with an older man. The pastor informed the girl's father, who went to the village, found the girl, and informed police. The police called on the pastors as witnesses. The girl's captor was sentenced to fifteen years in prison – justice that would not have been served without the love, vision and hard work of Voltaire's pastoral team.
Voltaire seems to be a man whose secret is vision. During one of my days spent in Cap-Haitien, I was introduced to a housing development removed from the street, developed completely by church volunteer staff to house two dozen refugee families displaced by the earthquake from Port-au-Prince. Funding came from churches in the United States, and the materials and labor were provided by Voltaire's volunteers. Along with Voltaire,
the church had already chosen the vision that God had given them from Jeremiah 29:5-7, that their city was to become a better place, and that they personally were to be caring for it and seeking its welfare. By constructing homes time and time before for those in need in their city, they had developed an efficient system and were equipped better than relief agencies and the government to deal with the tragedy.
Though he never expressed it verbally, Voltaire's vision is clearly to develop leaders for Haiti. During my time in Haiti I met members of his church who are lawyers, business owners, heads of security for the United Nations, seminary students, and educators. Voltaire believes in his volunteer staff, pastoral staff and in his leaders. He sees himself as a servant, not an owner or a leader. The church is strong without him. He doesn't need to be at all the meetings. In fact, there were many meetings his church network was having which I attended that were running fabulously well without him. He would not be surprised to hear this. But he loves his work and makes efforts to help where help is needed.
Haiti wouldn't stand a chance right now if it were not for God's kingdom. God has raised up leaders in the church for this moment. Voltaire leads the way in Cap-Haitien, from the driver's seat of his beat-up pick up truck. His vision is clear, as it needs to be to navigate safely through the trauma of deep poverty on Haiti's streets. He wants to raise up leaders to serve the nation.
Here's to Pastor Voltaire, the type of man Haiti and the world need more of at this time.