The Walk – Oklahoma – 30 days 27 cities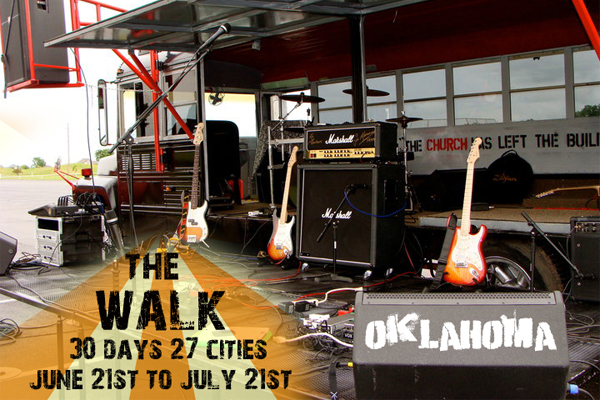 When God lays something on your heart it's best follow. It often can be crazy, out there, and most of the time it seems like you won't have the means or ability to do it. A little under a year ago God laid the vision on Jeremiah and Sarah Herring's heart to walk from city to city. They weren't sure what to do but were waiting on God. Through prayer and listening the Herrings narrowed God's vision to this.
June 21ST Through July 20th they will be traveling on foot through the heat of Oklahoma to make stops in 27 different cities. Their goal is simply to love and serve the people in every city and community that that set up.
In every city they will stop and immerse themselves as quickly as possible into the needs of that community. In simple faith they will be uniting the churches in each city to focus on really making a difference that can have lasting effects. They will be cleaning houses, mowing lawns, and building friendships with the people they met with the intention of serving and loving as Christ did.
As there vision began to get clearer a bus was donated to their ministry and they have turned that into a mobile worship center. The bus is essentially a mobile church where the message of Christ will be shared through messages and music. The bus will also be a mobile grill that can feed the homeless and people that they encounter in the different cities along the way. With the help of churches and you they would like to have another bus that could provide showers, bathrooms and even a space for ministry counseling.
Jeremiah and Sarah believe that the church must exist outside of it's walls and this walk in one example of bringing the church to the people of different communities. Their hope and prayer is that this walk will encourage others to be bold in their faith. They want the church to venture outside of its walls and really meet the spiritual and physical needs of their communities.
Some of the Enoch Team will be joining Jeremiah and Sarah and many others as they are trying to make a difference in the small towns of Oklahoma. Please help donate to this cause as they really bringing the gospel to the streets.
"My prayer is not for them (His disciples) alone. I pray also for
those who will believe in me through their message, that they all may be one,
Father, just as you are in me and I am in you. May they also be in us so that the world may believe that you have sent me. May they be brought to complete unity to let the world know that you sent me and have loved them even as you have loved me."
John 17:20-23
You can learn more about The Walk Here
You can register for The Walk Here
or
contact Sarah@forgottenchurch.com
310-658-0273
Send support by check to:
The Forgotten Church
(add in memo "The Walk")
2417 W. Cherokee
Enid, OK, 73703