Social Justice Off the Shelf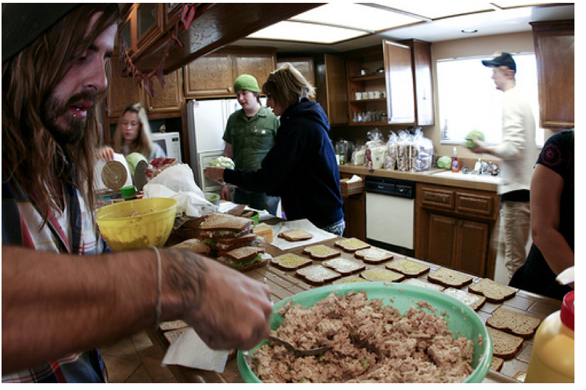 Written by Brandon Ryan Photos by Sarah Huffman
I find myself going more and more against the grain, moving away from labels. Moving away from the current pulse of Christianity, and more into the depths of God's freedom and grace. As a whole, a lot of Christians are following the teachings of Social Justice. Everyone is doing it. They're writing books about Social Justice in Africa and other places around the world where living conditions are destitute. People are finally opening their eyes, and I think that's a very beautiful thing. There are a lot of great causes and organizations out there. But I've got to say: Jesus wanted us to take care of the poor, widows and needy from day one.
Have we taken this whole Social Justice issue a little over the edge? I see all these people flocking to guys like Brandt Russo and Shane Claiborne. People go nuts over these two. It's not that I think that there's anything wrong with what these people are doing. I think its amazing. But I don't see people going crazy over Jesus and what he does for people. Whenever Jesus would heal someone in the New Testament, he says over and over, "Be sure that you don't tell anyone." You'd think after reading through the Scriptures, someone as amazing as Jesus would want everyone to know what he was doing. But then I thought, maybe he doesn't want to purposefully draw attention to himself. Even though crowds still flocked to him, maybe he wanted everything he did to resonate on a more personal note. I also think he didn't want his followers to miss the point.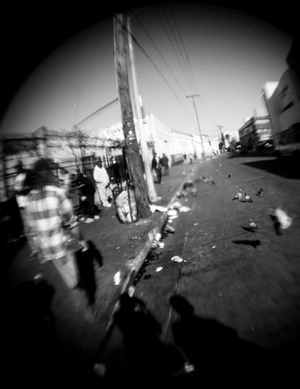 It seems like because one person decides to get off of their butts and feed someone, everyone else has to join in. I think Jesus healed and fed people because number one, he wanted to. And number two, because he knew in every fiber of his being that it needed to be done. The point of Social Justice is therefore to show and extend the same love and grace that God has shown us. When you help someone in need, Christ is being seen through your human face and interactions. And when you do this, you quickly become a light in the darkness. Pure love and kindness towards others, as God has commanded in the Bible, draws many into the arms of Christ, (which is salvation in and of itself). Colossians 3:17 tells us that "Whatever we do, whether it be in word or deed, [we should] do it in the name of the Lord."
Right now we're experiencing a Social Justice boom. Enoch Magazine interviewed Shane Claiborne about this exact topic in a previous video, and Shane responded with: "There's a lot worse trends out there…If it's a trend to live responsibly and take care of the poor, then I'm going 'sweet.'" So Claiborne's heart is like Christ's (i.e."Whoever is not against us is for us" – Jesus), but why can't we meet people where they're at simply because it's vital to extend life-giving care to humanity? I mean let's get real and honest for a second. These so-called Social Justice movements are becoming trends. And as we all know, bell bottoms, acid washed jeans, baggy pants and even tight jeans eventually fade away. Will Social Justice also wither? And when it does will our true intentions then be forced toward a life more like Jesus, because its all we know how to do?
There are people out there who are doing all these wonderful things, and have no idea it's even Christ-like. I just think it's time for a lot of us to re-focus on what it means to live, be human and know what it means to be a servant. I mean if someone needs water, give it to them. Clothes, give it. If someone is starving, put food in their stomachs. Then do it again and again just like Christ did. Grace and Peace.