Skid Row – Pastor Ron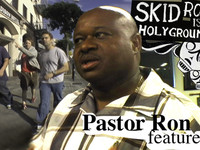 Written by Carter Theis
Enoch Magazine is attempting to bridge the gap between the homeless on Skid Row and those living in homes and suburbs around the world. Not only are we creating awareness, but we are also offering a real opportunity to help the people in our films.
Skid Row is the word used to describe the downtown homeless district in Los Angeles. Most of its residents are there due to drug addiction, mental illness and/or financial distress. This community is made up of thousands of homeless people and encompasses a 4-5 block radius.
Last April, a team of 8 individuals from different cities and states joined together for an Enoch Documentary in Skid Row Los Angeles. We walked the streets day and night, spent time with the people and distributed food and water. Our focus in filming this experience was not to show what we had done, but to show what the needs of Skid Row are and how outsiders (such as ourselves) could begin to meet some of those needs.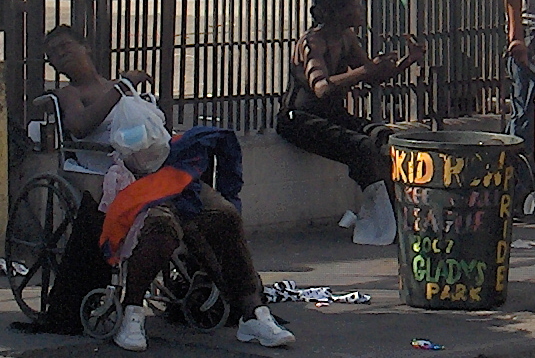 Half of our trip was spent wondering the streets of Skid Row without any direction or influence. We wanted to get a pure sense of the situation, and humbly inject ourselves into the madness. However, the second half of our trip was spent meeting with known figures in the community such as Pastor Ron. We learned that the first real need for Skid Row is to assist those who are already down there working everyday to make a difference in people's lives. Most of them are under funded. Nevertheless, they have dedicated their lives to assisting the poor and the addicted, so they know what works and what doesn't.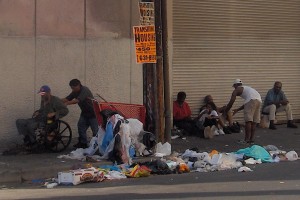 Pastor Ron's storefront assembly, Set Free Church & Outreach, is located on San Julian (the main street of Skid Row, one block from the rescue mission and a half block from the Dream Center pickup). It would take many pages to completely describe what Set Free Church & Outreach does, but simply stated, they: feed and cloth people, house men and women, run a de-tox center 100 miles outside L.A., operate a daily "safe house" for people on the streets, host group meetings and events, and maintain a faith based community of constant service to the people on the street.
Pastor Ron comes from the streets of Skid Row. A former drug addict and homeless man, Pastor Ron has a heart for the people on the streets and what is needed to change their lives. Most of what his organization does is modeled after the path that took him off the streets. His organization is the only one we found running a free de-tox center, an on-site clothing ministry and other daily services which are immediately available to those in need.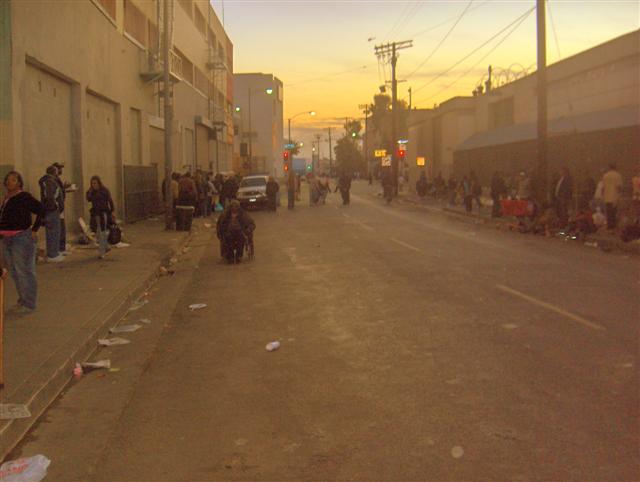 While we were on the streets for 10 days we observed only two apparent clothing ministries. One was a table of used clothes, dumped out in the center of Skid Row by street evangelist Patrick Ersig. Although this act of kindness was pure in gesture, (Patrick is practically homeless himself), the outcome was highly ineffective. People had high expectations for the opportunity to get new clothes, only to find out that they had to fight over a pile of unorganized second-hand clothes. Tempers rose and a frenzy developed, resulting in the weakest and most in need being run off by the more aggressive and less in need. Also, the time it took for people to determine if random articles of clothing would fit them and their gender was too long.
Pastor Ron's Set Free Outreach is the second ministry we found running a clothing drive. His clothing ministry room is open 4 hours everyday, and he leads a staff of rehabilitated on-site volunteers and residents to assist people needing things, such as clothes. While this venture is much more aligned with love, structure and efficiency, he barley has any clothing to offer. He explained that his ministry suffers because so few people donate clothing to Set Free Church & Outreach. "And what little clothing that is donated, is immediately distributed because there is a daily need for clothing, especially men's clothing," says Pastor Ron.
Since the release of our Skid Row trailer, Enoch Magazine has already been contacted by teens, college students, churches and homeless workers across the country who want to help Skid Row. The needs of Skid Row are so immediate, that it would be silly for us to spend prolonged time and money on a full-length film. Instead we offer our footage as a timely tool to meet the needs of people like Pastor Ron. We pledge to continuously return to Skid Row to help the people we've met and film the progress of Skid Row. Anyone reading this is welcome to contact us for information on joining us in Skid Row.
There's a few ways you could help us!
1) You could by an Enoch t-shirt. This would help us sustain our mission! They're not the coolest things on the planet, but they do make consistent appearances in places no one else wants to go like Skid Row. So that's kind of unique.
2) Donate money via PAYPAL to the Pastor Ron Clothing Drive and the people of Skid Row.
3) Join us on the streets. If you are more of a "doer" than a supporter, then join us on the streets. Many have already made this decision without any solicitation from us and we look forward to meeting you all. Just hit us up at: info@enochmagazine.com
[tab:Skid Row Trailer]
Enoch Magazine went to Skid Row, downtown Los Angeles in March of 2008. We filmed a documentary with 8 guys from different cities who decided to be a part of this crazy experience. If you don't know, Skid Row is about an 8 block radius, where over 10,000 homeless people live, either on the streets, in shelters or missions. If you watch this trailer, you will see that enoch magazine is really about loving and helping people.
Join us as we continue traveling to Skid Row to help the homeless and assist/encourage the people who are called to serve them. We are currently looking to secure discount relationships with clothing manufacturers to answer the need for a committed clothing drive! To find out more on how to get involved with the Skid Row feature film, monthly web series or just homelessness in general, drop us an email at info@enochmagazine.com.