Showdown with Satan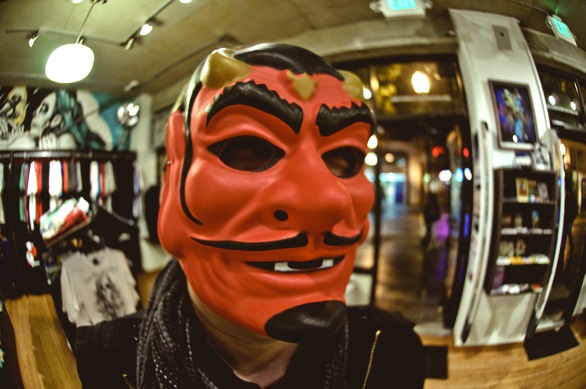 Written by Brandon G. Harris
When Carter Theis of Enoch Magazine came to me with the idea for a Halloween issue, he asked me if I would write an article about Satan and the demons. I told him that I would be glad to. It didn't sound like a difficult topic to write about. The Bible is packed with information about Satan, but I had no idea what I had just signed myself up for. I began my research and developing my game plan. It seemed like; this was going to be a cake walk. As I began to write I experienced something that had never happened to me before. I couldn't move forward. It seemed like nothing was coming together. My game plan wasn't working out like it was supposed to. "No problem." I thought to myself, "I just need to get a different perspective."
I began to ask various people what they thought about Satan and how he operates. I gave Carter a call and he told me about a time when he and some of the guys from Enoch were in Portland, OR. carrying the cross and the role that Satan plays when they are out on the streets. The story interested me and I thought I could use his points to add to what I was certain would now be an extremely insightful article. Several days had gone by and the deadline was approaching, I sat down at my computer again and began to write. This time I was making more progress, I was satisfied with where it was going. To my disappointment, I hit another brick wall. In my frustration, I would have been glad to write anything that just made sense.
Paragraph after paragraph kept being deleted as I struggled to find a powerful, eloquent and biblical way to write about Satan. Each time I looked at the blank document my frustration grew. I was tempted to call Carter and tell him that I could not write the article. Suddenly, I felt as though I was surrounded and being smothered by darkness and fear. I felt vulnerable, weak and abandoned. My pulse increased and the temperature in the room seemed twenty degrees warmer than it was just fifteen minutes before. I began to wonder if I should go to the hospital. As I stared at the blank document for probably the tenth time, I realized what was happening. I was in a showdown with Satan.
The intensity of the moment grew even stronger. I felt like the wind had just been knocked out of me. Realizing I could not conquer this fear on my own, I did the only thing I knew to do. I called out to the Lord and immediately began to pray. I sent a text message to some of my friends who are prayer warriors and asked them to pray for me as well. I called my mother and told her what was happening. Tears poured down my face as she spoke to the Lord on my behalf while on the phone. I asked her to continue praying even after we hung up. I desperately needed the Lord because I was going toe to toe with Satan.
When the prayers went up, Jesus stepped in. The fear was gone; my weakness was exchanged for empowerment. I had just learned something about Satan that I had heard before, but never experienced. Satan is in a battle for our minds not our hearts. My heart belongs to Jesus, but my mind is still fair game. How can Satan freely attack our minds if our hearts belong to the Lord? Our free will is the "X" Factor. Ultimately, we are still in control of our minds.
Jesus addressed this in John 10:10 "The thief does not come except to steal, and to kill, and to destroy." If we allow Satan to penetrate our minds he is able to steal our joy, to kill our hope and destroy our faith. By removing these things from our minds Satan is able to render us useless. Have you ever wondered why there are so many people in church that don't struggle with Satan? It is because many of them have been made ineffective without even realizing it. Satan loves when you go to church and sing praises and hear a powerful message as long as that is all you do. He's not going to bother you until you get out of your pew and get in the game.
Many Christians will tell you that they are not afraid of Satan. I can tell you in all sincerity that when it comes to the battle for your mind Satan is relentless. Squaring off with Satan is terrifying and you should not expect to emerge victorious without calling upon the Lord. The conclusion of John 10:10 is my favorite part. "I have come that they may have life, and that they may have it more abundantly." While we cannot hope to defeat Satan by our own strength, victory is available the moment we ask for it.