Should you give money to the homeless?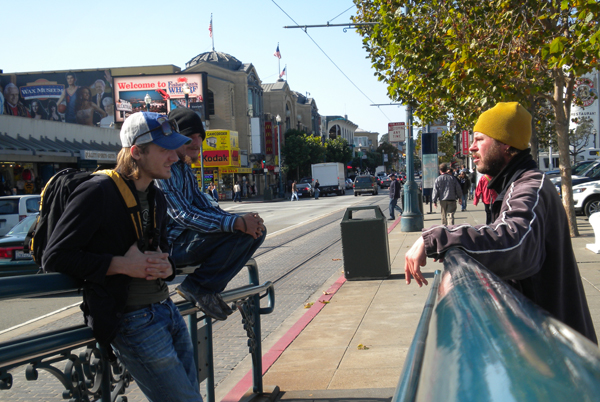 written by Lance Steinhibel
"I bet you can't hit me a quarter" reads my friend Matt's sign, as he sits on the curb begging for money. We see it every day, someone in need looking for money. As I watched people pass by, only one guy actually threw a handful of change at him. Most would just drop whatever loose change they had in their pocket at his feet. I sat there wondering to myself, how many times have I walked by someone like Matt who is looking for money, and judged them in my head? I was thinking to myself, what are they actually going to do with this money? Are they going to just buy drugs, booze, maybe food, or a night in a hostel? For the longest time that ran through my head as I would walk up to them. Then I started to think about it, if I were going out for a beer with friends, is it any different than if he spends the money on beer? I know some of you are thinking, well he's homeless, and probably a drunk which makes it worse for him to buy it. Sure, there are many homeless that are alcoholics, but not all of them are.
I met a homeless man recently in Sacramento, and he was drinking a beer as I talked to him. We chatted for a little bit and he apologized for drinking. He told me that he just wanted to feel something. Being on the streets for ten plus years had left him numb to feelings, and having a couple beers was a way to feel something again. As we talked, he remembered the feelings that God gives him each day and how he forgets to ask for them. He feels too ashamed to pray, in fear that God will judge him. He's trapped in an endless cycle that keeps turning over and over. So, what to do when you see someone like that?
The Bible talks about helping the homeless, and to help those in need. But it's hard to know everyone's story and where they are in life. I try to talk with everyone that I see, but I still wonder. Now, I'm not saying that you should never give any money to any homeless person you meet, but I do feel that the Bible lays it out pretty simply. I don't want to talk about the normal verses that everyone seems to preach on when it comes to homelessness. I feel that the best example comes from Acts 3 when Peter and John are walking in the temple gates. They see a man that is paralyzed, begging for money. As they pass by him they are asked for money. Instead, they respond with prayer for the man who is healed instantly, and goes walking with them, praising the name of the Lord for what happened.
Great story, right? But how does that help me decide if it's alright to give this guy money or not? Well it comes down to what Peter and John showed us. It's about finding the true need in someone's life. We need to look at what a person really needs. Sure, they need money, but sometimes they just need a hug or someone to actually sit down and talk to them as much as they need the money. They need to be treated like a human being and not someone that has been cast aside by society. I have found that the best way to approach this question is to look at this person through the eyes of God. Obviously I don't have God's eyes, but we need to try to see them as God sees us. What are we needing in our lives? What differences can we make in their life if we take the time to find the true need in them, instead of walking by and possibly dropping a couple quarters in the cup? Would we see the sick healed, the addictions broken, or their hearts restored?
Sometimes I feel like I'm not going to make a difference; that the problems this person is experiencing are too much for me to do anything about it. If we think that way and approach someone with the mindset that we are going to fix everything at once, we are going to be let down so many times.I'm not saying that we can't fix any problems they might have. However, trying to fix all of them at once is a lot to take on, especially for one person. I try to approach it thinking that I will try to meet the need that God is putting on my heart for this person. Sometimes it's giving them money, talking to them, praying for them, or even giving them a cigarette. Now, I know I just made some of you wonder why I am I handing out cigarettes to the homeless. If you ever want to talk to a homeless person and have them stay for awhile, I have found that they will talk to you forever if you give them one. I get asked for cigarettes all the time while I am on the streets with the cross talking with people. You would be surprised at how effective it is.
We need to be seeking God's heart for everyone that we meet, not just the homeless. Everyone is in need of something. Most of us forget to ask those that we know, and look into their lives to see if they need anything until they ask us. If we are truly going to be an effective help in anyone's life, we must learn to be available. Not in a way that is convenient for us, but in a way that opens our lives up to anyone that we meet. We must learn to truly love our neighbor as ourselves. Sometimes it seems easier to help someone that is homeless, or someone that we don't know but if we truly want to call ourselves friends to anyone that we know, we must learn how to reach out to them, and help them if they are in need. It's hard to break past the pride. We feel like we are almost shaming our friends by implying that they need help. We must learn how to look past the problem and look at the need, then find a way to meet it. If we are ever to love as God loves us, we must learn how to first forgive as God has forgiven us. For if we look at others and judge them, how can we ever see the true need and hear what God is wanting us to do? We will end up never looking past the judgment.
Please leave me a comment about this article below, I would love to hear your opinions or stories about helping the homeless.