Moving On From the Gospel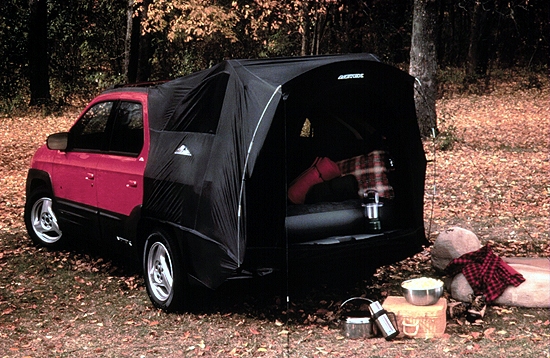 Written by Dave Geldart
This last July, a few of us had the privilege of going to the Xenos Summer Institute conference in Columbus, OH. We packed into Todd's Pontiac Aztek and set off on a 14-hour road trip to his old stomping grounds in Columbus. The road trip was actually QUITE fun (along with a number of "memorable" incidents and experiences)! We loved staying with a Xenos family, especially getting to hear their stories of how they were both far from God before people at a Xenos Home Group reached out to them. Xenos is a unique, non-traditional church born out of the Jesus Movement back in the '70s. In addition to Central Gatherings, their church is primarily composed of smaller Home Churches (very similar to my church's LIFE Groups). Xenos' emphasis on small groups and relationships with non-church folks in the community was instantly attractive to me. Seeing the vitality and proliferation of Xenos' Home Groups encouraged and reassured me that healthy, vibrant, multiplying LIFE Groups are really possible in our society today. And they are an indispensable part of the Church's mission.
But as interesting and invigorating as Xenos' Home Groups were, something else, with even more staying power, came home with me from my time at this conference. The theme of the conference this year was the "Call to Joy and Pain." We heard from many motivating and engaging speakers on topics surrounding this issue. It literally felt like I was trying to drink out of a fire hose of all the great things been said. But I'm only human, and I have to latch on to a few things to remember and take home with me. For me, among the myriad of great things I heard, two questions rose to the surface of my heart. And both are intimately related. First, is my life characterized by joy? And second, have I moved on from the Gospel?
I've been a follower of Jesus long enough to know that suffering is part of the deal. We are called to suffer because Christ Himself suffered for us. And I've also lived long enough (it sadly doesn't take too long) to know that life is full of suffering. Hard times seem to outlast the good. I'm restless and afraid more often than I'm at peace. I don't seem to ever have enough money to feel safe. My friends and loved ones experience tragedy, illnesses, and die. I try to lead others, and I get burned. I try, but fail. I so often hear the voice of the evil one telling me that I'm worthless and a fraud. Marriage isn't easy. I've despaired multiple times of God's goodness. No, I'm under no delusions of the Garden, I know the world is fallen and things just don't work right. I "get" suffering. But what I realized I've too often missed or lost was suffering's spouse: joy. I've been happy, sure. And I've had times of joy. But not tons. And I'm a Christian! I'm saved from my sins and been ransomed back from death to be made in right RELATIONSHIP with God Almighty! So why am I not joyful? Could it be that I have slowly but surely moved on from the Gospel?
One of the talks at Xenos by Gary DeLashmutt gave me lots of food for thought. He said Romans 15:13 tells us that joy is possible because God's Spirit is all powerful! And God does not normally manifest his power by removing our sufferings but by giving us joy, which is more than just our own personal happiness. Also, Joy is essential because God's reputation is at stake. Our responses to suffering should glorify Christ, because it reveals that we truly trust Him above all else. Joy is REALLY important, because it helps draw others to Christ and is crucial in influencing other Christians to give their lives to Him and His Mission. A question Gary asked and I ask myself is: "Am I fighting for joy so that others will be attracted to Christ?" I had to say at that time that the honest answer was "no." So, if joy in the midst of suffering arises out of our trust in God, what does that say about me? It reveals my own trust issues with God Himself. Unfortunately, it's not an easy thing in our fallen states to truly trust in God. But the hope for this malady lies in God's answer to our fallenness: the Gospel of God's grace.
A few weeks ago at New Hope, Ben Deaver did a great job of teaching about Joy. And he used some visual aids that we got from Xenos that I think apply well here: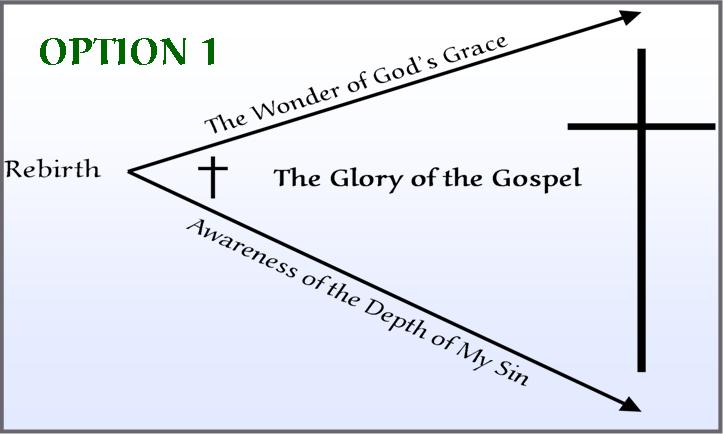 There are two options available to us as we engage the Gospel. The first option has us experiencing Rebirth as we first accept the Gospel. Then, as we live and grow, we become more and more aware of the depth of our own sinfulness. But, rooted in the Gospel of Grace (the reality that we are completely forgiven and accepted by God), the wonder of His grace increases as well. And thus, so does the Glory of the Gospel and our understanding of the Cross. In this option, the Gospel is not only the thing that first saved us, but the thing the drives us — increasing in magnitude and power the longer we live in it. But the second option, I regret to say, is probably where I find myself all too often…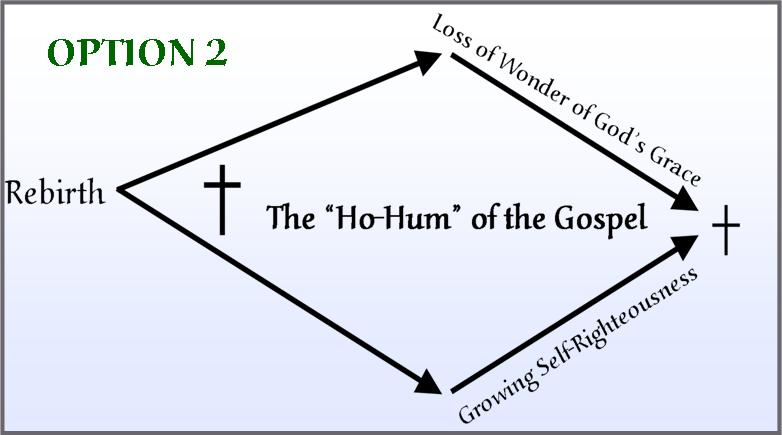 It starts out the same way the other option does. But somewhere along the way, as we become more and more comfortable with the idea of the Gospel, we see the depth of our own sin less and less, and begin to feel pretty self-righteous. As we increasingly revert to believing we're "pretty good people," we lose the wonder of God's grace, because, after all, we really don't need it after our initial Rebirth salvation experience. The Gospel becomes increasingly "ho-hum" as we move on from it. And the magnitude of the Cross actually becomes smaller to us than when we first believed.
I think I have, to some extent, moved on from the Gospel. I've forgotten the intimate relationship between suffering and joy. I've missed sinking ever deeper into the Gospel, the source and object of joy. So my life has become decreasingly marked by joy, and spirituality is boring, or at best, cerebral. The BIG thing I came back from Xenos with this summer is the desire and prayer to get back to the Gospel and to cultivate a life marked by joy — not just happiness, but a deep joy that transcends circumstances and testifies to a trust and hope in something this world can't offer or explain. By God's grace, I believe He who began a good work in me will be faithful to carry it on to completion. Amen!
Is your life infused with and marked by true joy? What would your friends, family, or neighbors say? Is the Gospel the CENTRAL Focus of your spiritual life, or have you "moved on" to other spiritual things? Is your spiritual life "ho-hum" and boring? Or is it vibrant and steadily increasing in wonder and thankfulness, trust and hope? Is the Gospel the great TREASURE that you mine continually, or the LIFE PRESERVER you reach for when things go bad? Talk to God, your friends, and family about these things, and ask God to restore to you the joy of the Gospel! May we be a Church that is characterized by joy and rooted in the Gospel.