Nicaragua Trash Dump: Love and Light in Hell?
Written by Christa Sagmoe
Gehenna, the Hebrew word meaning hell, was originally used to describe a trash dump outside of the city of Jerusalem where discarded animal carcasses and garbage were thrown. It is that word that is called to mind when one sees the conditions of the village of La Chureca, which incidentally is also the trash dump of Managua Nicaragua. Everything around the inhabitants of this dark city is dying or decaying. Spontaneous combustion fills the air with toxic smoke as hundreds of vultures join the people of La Chureca in a constant exploration of rotting trash.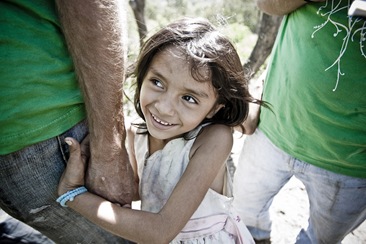 This way of life is very hard for most Americans to understand. Their homes are made from discarded items found in the dump. Each day, the scavenging begins as arriving trash is dumped quite literally on their doorsteps. What the locals are looking for is anything of value. The most common items of some worth are cans, bottles, metal and steel from burnt tires. As the daily tasks are set forth, children of dwelling families play together. To them, this is the world they were brought up in, and they are unaware of its irregularities. Smiling faces kick soccer balls over discarded medical waste, which is a sign that life, laughter and love still exists in the oddest of places.
The inhabitants of La Chureca seem to be the forgotten ones, discarded like the rotting garbage that surrounds them. Forgotten that is, until a man, Brad Corrigan, formerly of the band Dispatch, listened to Gods call to take the message of love to them. It was not an easy thing, but Brad (aka Braddigan) was not discouraged. He took a "step of faith" and let God do the rest. The drive that this man and others like him have is nothing less than amazing as he says, "In a man's heart, he determines his course and the Lord determines his steps." Essentially we are just along for the ride, and what a ride it is.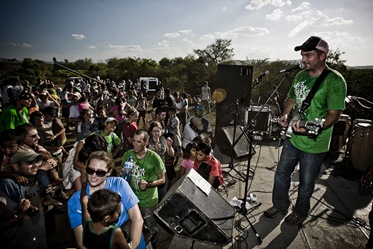 His organization Love, Light & Melody began in 2007, and it works to meet the needs of the community, which were not being attended to. While the physical conditions there remain much the same, the long-term future looks bright. Corrigan is helping to 'bridge the gap' by attending conferences with the Spanish government and US Ambassadors in an effort to get the government to take notice. Ironically, in August of 2007, the Vice President of Spain was compelled to make improvements as part of a philanthropy project that will, no doubt, serve as her legacy. Likewise the Spanish government has agreed to 'kick in,' as Corrigan said, thirty million euros, (about forty-five million dollars) over the next five years. This effort will bring in better jobs with fairer wages, restoring the area from a 'toxic' environment to a more environmentally friendly place. Interestingly enough, the plan is to find a new location for Managua's city dump outside of La Chureca, where the people can work at, but not live. That way the people can continue living in the only area they know to be "home." Corrigan believes that if these goals are met, there will be a significant improvement in the next five to ten years.
The educational needs are being attended to by a school started by a missions group called School of Hope thereby giving each child the chance to learn. Imagine how awesome it must be when a child learns to read for the first time, to see their faces light up as they read each new word. The students also get to express themselves in art, thereby adding light and color to what could be an otherwise dull existence. How much more beautiful these colors and artistic creations must look displayed amongst the grayish brown tint of the land.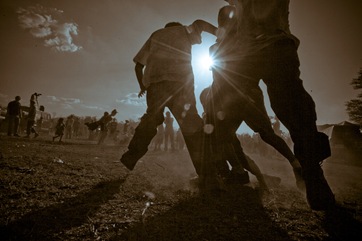 Of course the children are not the only ones that are being helped out. The adults are being assisted in looking for new job opportunities outside of the trash dump. To aid in this, a vocational school is being built along with a medical clinic to attend to their health care needs and a recreation center that will serve the entire community.
The highlight of Corrigan's work is an event known as Dia de Luz or Day of Light. This year's event, the second ever, was held on March 6th. The two main events were the painting of a twelve by twelve foot mural a 'gorgeous three day project' by Kelli Murray of Jedidiah, Patrick Maxi and Austen Blasingame, and a concert given by the members of Bradiggan; Corrigan, Ray, Diego and Paul. The concert was held in effort to, "blend the boundary between the stage and the crowd…to feel like a family," as Corrigan puts it. At one point in the concert some of the children even came up and sang along with the group lifting up their voices to the skies where colorful kites and vultures flew intertwined.
Unlike last year, this year's event nearly didn't happen, as there was a strike starting on March 1st where the inhabitants were not allowing the trucks to come in. According to Corrigan, the trash that had been coming in had begun to lack things of 'value' such as bottles, tires and other things that could be converted into cash. This caused the inhabitants to accuse the truck drivers of shifting through the garbage before they brought it to the dump, and removing anything that would be of value. This in turn became a forty-day strike, which ended with the Nicaraguan government eventually telling the drivers that if they were doing what they were being accused of, they had to stop.
It was on the fifth or sixth day of the strike when Corrigan and his team wanted to hold their concert, but when they arrived at the entrance and they saw how critical the conditions were, Corrigan was like, "man what if they don't let us in?" Corrigan really had to put his trust in the Lord, acknowledging that it was 'his day' and everything would depend on what he would allow them to do.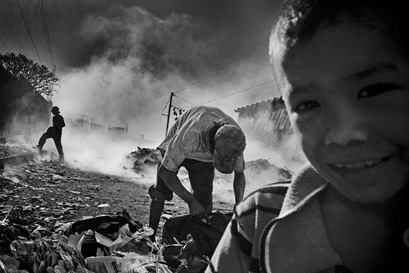 There was about "ten or fifteen cops" when he arrived there, and Corrigan and his group thought that they were there to keep anyone from coming in, when in fact they were just there to stop any violence that might have broken out between the truckers and the inhabitants of La Chureca. Amazingly, according to Corrigan they were able to just 'smooth their way in' and they just walked in "before anyone could stop us." The group didn't even need the cops as protection, because there was such a bond of love between the inhabitants that the police were excited help Brad and his team. However even as they walked in they were still thinking that they might have to turn around but as Corrigan says, "The Lord just let it happen," after several sleepless nights. Corrigan states that it was just like the Lord spoke to him and said "Now just grab my hand and come and walk." That is living proof that if you have a "surrendered heart" and "love" than anything is possible.
As far as future plans, and efforts to get the word out about La Chureca, Corrigan is planning to do a coffee table book that will have a collection of photographs taken by various photographers including Luis, a rising talent, who as Corrigan puts it, "Has God's eye."
In retrospect, I think of how we take the things that we have for granted when there are people out there who have nothing but the clothes on their backs, if that and no hope for a better future. It is through organizations like Love, Light & Melody that these people are being given a chance. If you would like to learn how to get involved with the ministry or just watch the awesome video on their homepage, you can go to their website: