Jonah Project Baptisms on Skid Row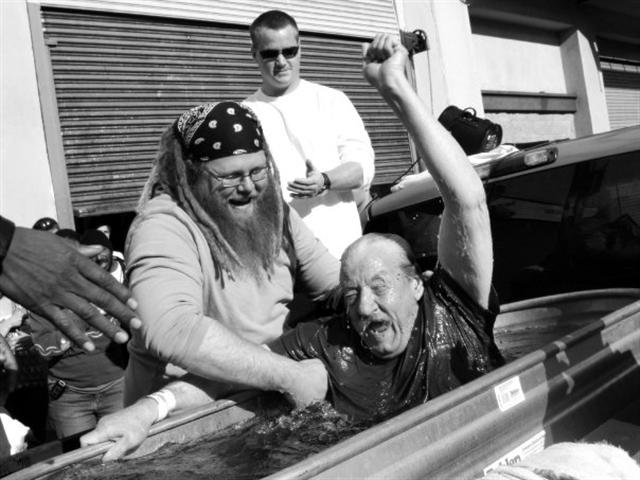 Written by Patrick Ersig
God has proven His words true in the daily operation of His ministry on Skid Row. I don't think a day has passed when someone hasn't approached us asking "What must I do to be saved?" As we abide in Christ, plant seeds, water, and rest in Him, He brings in the harvest. Everyday precious souls are coming to us ready to repent and give their lives to Jesus. Just today, before we could even get the front door rolled up, someone came running up in tears wanting to repent and give their life to Jesus.
So then neither he who plants is anything, nor he who waters, but God who gives the increase. 1 Cor 3:7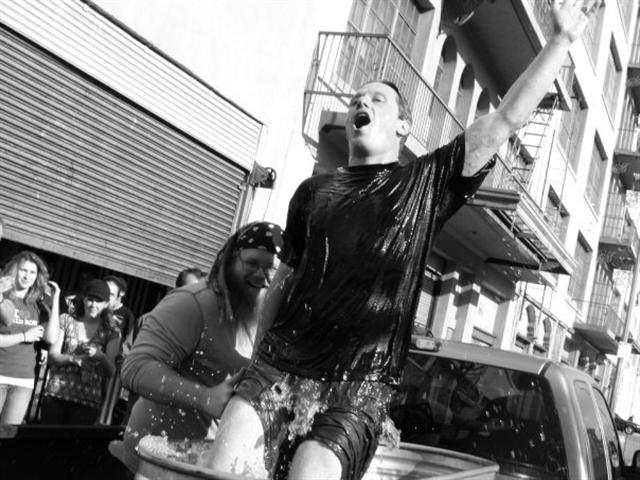 A few weeks back a gang member freshly released from jail came into the church and asked for the pastor. He said "I just got out of jail 10 minutes ago and am part of the largest street gang in L.A. I have determined not to go back to my prior lifestyle and am ready to repent and give my life to Christ. Will you pray with me?" After making sure he understood what repentance and giving his life to Jesus meant, we prayed. It turned out he has four brothers, who along with their father are all pastors and had been praying for him, their lost brother and son. Yes, "the fervent prayer of a righteous man avails much!"
I pray that we will all be encouraged by the referenced Scriptures and turn our focus 100% to Jesus Christ and abiding in Him. Then, just be about the Father's business – planting and watering, and watch God bring in the harvest! I am happy to announce that we have had the blessed experience of witnessing many souls ushered into the Kingdom of God. And I am just as happy to say that it has had nothing to do with us! All the glory goes to God. What a wonderful pleasure it has been to seek after the face of Christ and abide in Him and watch God produce the fruit!
"I am the vine, you are the branches. He who abides in Me, and I in him, bears much fruit" John 15:5
With the Jonah Project only opened a little over a month, we were able to baptize seven recently. We performed our baptisms in the back of a pick up truck in a horse trough, right in the street. This is a powerful expression of what God is doing in people's lives on the streets of Skid Row. Please join us in rejoicing as God is changing lives and setting people free! Also, please watch the following heart touching video of Dennis. Dennis is a 74 year old man who had been addicted to crack for over 20 years and was miraculously set free by the power of Jesus Christ! Dennis was one of the seven people baptized on Skid Row