Article – Does God Get You Fired?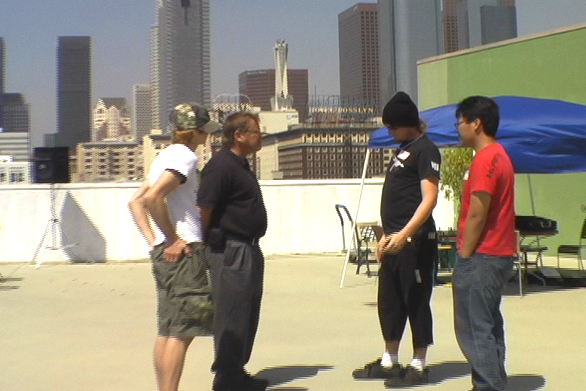 From left to right: Joel, Andy, Nate and Victor doing an interview on the roof of the Union Rescue Mission.
Written by Carter Theis
When we went to Skid Row, our team had a chance to interview Andy Bales, the CEO of the Union Rescue Mission. The Union Rescue Mission is a big multi-million dollar operation located in the center of Skid Row, Los Angeles. Just outside its walls, homeless and mentally ill people flood the streets as crack cocaine and open drug use is seen in abundance. As we walked inside, I felt as if we had quite literally entered an Embassy surrounded by a war zone.
As we followed the head of public relations into the elevator, we found ourselves ascending to the top of their seven story building, overlooking the skyline of downtown LA. If this was not weird enough, as we approached the CEO, Andy, we noticed he was just standing up there waiting for us! Usually when you meet or interview the head of some organization or business, you have to wait for them, right? But not this time. There stood Andy, his collar shirt bearing the Rescue Mission's logo, with his hands held together as if he was a groomsmen in a wedding.
Andy turned out to be an amazing guy; proof that God rewards the humble. But when Nate asked him how he got started working with the homeless, Andy touched on two major experiences in his life, which are worth sharing. The first was his own hypocrisy. Andy said that while he was in school, he preached a sermon 6 times in a row, urging people to serve the poor. Yet after he preached this message for the 6th time, a homeless man asked him for his sandwich one day and Andy promptly denied him. Instantly, he realized his own hypocrisy.
Turns out- God gave Andy a second chance to serve that homeless man. But not only did he start serving the poor and homeless directly, Andy also sought job opportunities in organizations such as churches and city council to leverage a stronger hand in helping the poor. However, as he worked for these organizations, he found that they had no interest in his passion. He was eventually shunned by the City Council and later put on paid leave from his church.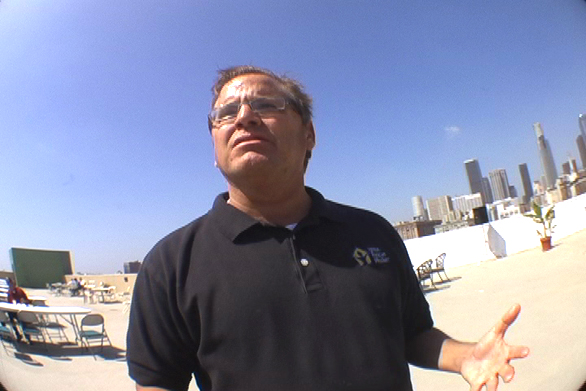 As I listened to Andy share his experiences with us, I realized I've experienced similar issues with my quest to do a decent magazine. Before I committed my whole life to enoch magazine, I too was fired. I worked for a big Christian TV company. I thought I would be able to do great things with all the money and connections they had. But the more I tried to do what I thought was right, I, just like Andy, was shunned… demoted and finally let go.
We both experienced the so-called "good guys" turn their backs on us, which caused me to ponder this thought: "Good guys" like the church or city council are not necessarily the ones you'll end up working with if you want to serve the poor. When we went to Skid Row late at night, the only other people we came across that were out there helping the poor were two Armenian gentlemen who claimed to have no religious affiliation. Experiencing that, made me realize that serving others has nothing to do with what church you go to or what religion you claim to be a part of. You either feed and clothe the homeless, or you don't, and fire the guys who want to.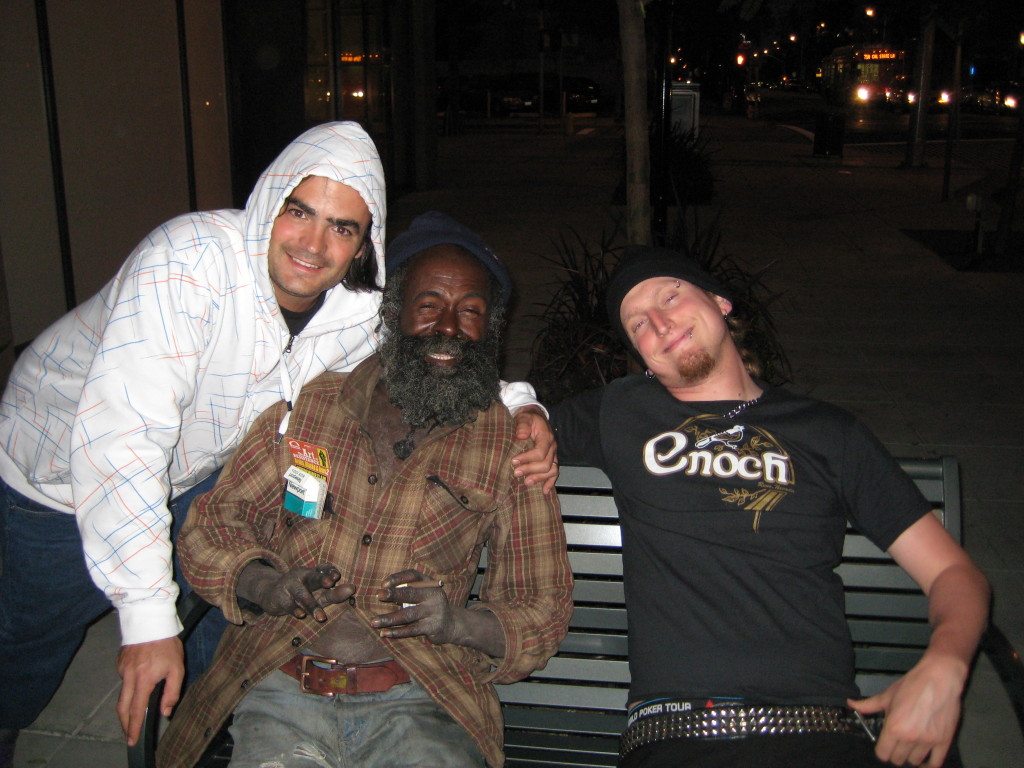 I think for some of us, God will remove us from a church or job position, cause he knows our heart's true desire to serve people through him. When that is spotted…some of us find ourselves being escorted out of a comfortable religious setting or a job, thereby eliminating the middle man and putting us in direct connection with the man upstairs!
Andy said he was sitting at home after being let go from the church and city council, when he received a call from the Union Rescue Mission. Not only did they want to give him a job…they wanted him to lead them as CEO. It's almost like God was saying, "Ok Andy, you want to serve the poor? Then stop fooling around with the Church and the City… I'm putting you in charge of the biggest homeless mission in America."
When I was demoted and then later fired, I had a similar heart like Andy's. But the "good guys" I thought I needed to be connected to were not the "good guys" God had in mind. Luke Chapter 10 says: (1) After this the Lord appointed seventy-two others and sent them two by two ahead of him to every town and place where he was about to go. (2) He told them, "The harvest is plentiful, but the workers are few. Ask the Lord of the harvest, therefore, to send out workers into his harvest field. (3) Go! I am sending you out like lambs among wolves. (4) Do not take a purse or bag or sandals; and do not greet anyone on the road. I'm just glad I got to meet Andy up on that roof and know that there are others out there who are willing to admit past rejections and struggles. That was cool.