We are the Union – Great Leaps Forward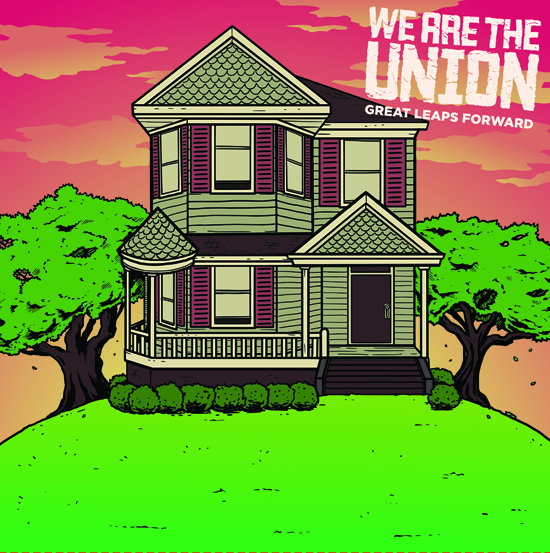 Reviewed by Nate Smith
This is the best record I have heard in years. If Rise Against, Lagwagon, and Less than Jake all blended their records together this would be the end result!
"We're All Dead", track 1 opens up horns, guitar and heads straight into punk rock that is Mohawk worthy. I can picture the mosh pit in full force if they opened up their set with this tune. "Rearranging Deck Chairs on the Titanic" is an amazing title. The horns are blended into the music so well it brings chills to my spine. The ska breakdowns appear out of nowhere and surprisingly fits well. The drummer shows just how fast he can go on this track.
Track 6 has a blend of 2 guitars that compliment each other so well. One is playing ska and the other is distorted buried in the background. The style is so unique these guys could help put Punk/Ska back on the map. Bands should be taking notes from We Are the Union. "Five Out of Five kids who will Kill Love Slayer" is radio friendly and could easily be the hit single from this record. The chorus is a wall of Punk Rock Madness. I must note that the songs flow so well together that by track 8 you don't even realize that you're already over halfway into the record. 'Between the Devil" is the standout Ska track of the album. The horns and bass drive the track home.
Track 12, "One Million Motors" rocks my face off. The vocals are strong on this one. At 1:15 the bassplayer shows his talent with a great run that sticks out and makes one realize that the entire band are seasoned and talented musicians.
We Are the Union has written the best record I've heard in 2010. You've never heard Punk/Ska like this before. They play fast, skillfully, and have a great sound that I am willing to bet only gets better live. I give this record a 10 out 10 and put The Enoch Stamp of Approval on it!!!