Victims of Circumstance – Roll the Dice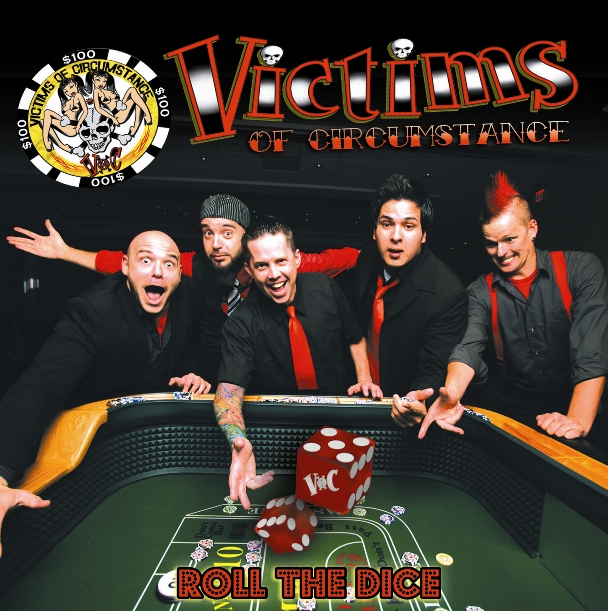 Written by Nate Smith
If Less than Jake, Reel Big Fish, and The Mighty Mighty Bosstones got in the ring for an old school WWF Royal Rumble it would be a Punk Ska Furry. After chairs broken, fists thrown, and bloody noses only a few would remain. If you took those few and made a band then Victims of Circumstance is what you'd get. Produced by Steve Foote of Big D and the Kid's Table, the album, Roll the Dice, brings that Punk Ska you've been waiting for since 1999. With the opening note to the final finish Victims of Circumstance has truly produced a masterpiece.
The first track, The Final Flight of D.B. Cooper, draws me in. The vocals of the chorus take me back to my senior year of high school. I love the horn intro that starts off that slowly lays way to a punk rock anthem. This is actually my favorite track on the album. It's interesting to note that Victims of Circumstance first began practicing in Glen Stewart's (drums/vocals) office after everyone went home. The song, This Used to be a Riot gets me off my feet and shankin' in my living room. It's the perfect groove to play at a party to get the room going. The talent of the horn players on Number One Hit Single, lets a listener know that these boys are not messing around. With a song like this Victims of Circumstance could bring back ska to the mainstream listener. The guitar solo is a great lick to play air guitar to. The lyrics of Get Out paint a vivid picture of a high school kid whose parents are out of town. I can remember those days of having an entire house to yourself and the first thing you did was get all your friends over for a little chaos
Victims of Circumstance Rock!! It seems good punk ska records are far and few between. With the punk/ska of the 90's long gone its great to see new bands uniting with the old ones as they try and bring it back.