The Wonder Years – Suburbia I've given you All and Now I'm Nothing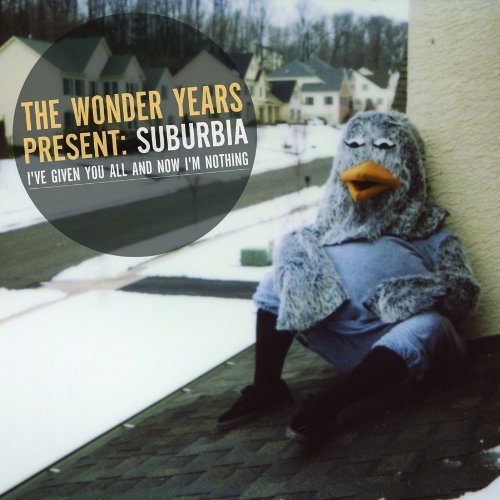 If the Wonder years were a slot machine then I've hit the jackpot. With lyrics so true to life, music I can relate to, and an overall sense of perfection, their newest release (Suburbia I've given you all and now I'm Nothing) is one of the best records I've heard this year.
It opens with the lyrics "moved all my sh#$ in my parents basement and out of our old apartment" which I can immediately relate to as that's what I did before I moved back to California. It's punk rock at its best. With this song simply being about traveling, finding yourself , and heading back home I think any kid who has been to college or moved away can relate. "My body feels rejected I can't say that i blame it, my heart keeps saying stay young my lower back seems to disagree" could be the lyrics that every 90's punk rocker needs to hear. This record opens so strong and I know it will only get better.
Track 2 keeps the punk rock going. The chorus is so powerful it hits likes a semi-truck ran you over. I must mention right hear that the drummer has taken the simple punk rock beat and improved upon it with a glorious string of fills that continue throughout the record. The bass breakdown at 2:08 is refreshing and a perfect blend for this song.
"Local Main ruins everything" is a great title and shows off the vocal ability of Dan "Soupy" Campbell. This album is already filled with stories that any teenager or adult can relate to.
"Suburbia" tells the story of a bowling alley fire and slows the album down a little. It clocks in at 52 seconds and is over before it began.
Track 5 "My life as a Pigeon" brings a wall of guitars that hits you like a Kiss Concert. I've never seen then live but with anthems like this I am willing to bet I won't be disappointed.
Everyone loves the idea of the childhood summer and "Summer in PA" captures just this. It makes me wish I could be 18 and enjoying a carefree summer once again. I love the lyrics "The casino seem like a bad idea but Denny's seems like a worse one but I don't think we ever let that stop us. We ended up busted broken and choking down a grandslam I can't think of a better way for a night to end." It's as if listening to this album is taking a vacation from the stress of your everyday life and reliving the things that used to make you happy.
"I won't say the Lord's Prayer" gives a listener an insight to the singer's views of Christianity. On their previous release "The Upsides" he also addresses this topic. As a Christian I may not agree with all his thoughts but I can appreciate his views on religion. The lyrics "If we're all just Christians or lions I think I'd rather be on the side with sharper teeth, I don't need saving" are quite a bold statement and I'd like to find out where exactly where these lyrics came from.
"Coffee Eyes" tells a story with the lyrics "I cut my hand on a piece of glass, and I hope the scar lasts so I don't forget that there's been a table for me there." It's a simple story that covers the idea that we all want to fit in and have friends we can count on.
Track 9, "I've given you all" deals with the issue of homelessness. Since our magazine spent a lot of time working with the homeless on the streets of Skid Row in Downtown Los Angeles it's refreshing to see a band take the time and write about this issue. This song tells the story of helping a Vietnam vet who got beaten to death but nobody ever did find him. You can tell the honesty of the lyrics where he genuinely wonders what happen to him. He also addresses that it's a sobering sight to see homeless alcoholics who are rotting away their lives. I hope that this track will make people think about helping the homeless in their own community
The tempo is back up in the music on "Don't let you Cave in." We're 10 tracks in and I'm still impressed. Keep on rocking guys.
"You made me want to be smart" is a typical punk rock anthem. Fast, fun, and enjoyable. The chorus has a beautiful bass line that it takes a few listens to notice.
One thing I love about Southern California nights is the need to wear a hoodie. On "Hoodie weather" they've captured it perfectly. We often hate where we grow up and as we get older we come to appreciate it because it the town and place that often helped make us who we are today.
"And Now I'm Nothing" closes out what I would call a 10 out of 10 record. It's a little mellower in parts and you almost need it to recover from the adrenaline that runs through this record.
The Wonder Years won't probably get the credit they deserve but this record couldn't get any better. It's an album filled with stories of suburbia, love, and just plain life. I give this album the Enoch Magazine Stamp of approval