The Urgency – Best Album EVER!
Written Carter Theis
After being unemployed for a year and a half, and spending my life savings on an online ministry magazine, I finally received an album that made it all worth it. Mercury/Militia Records sent Enoch Magazine a self titled debut album by a band called The Urgency. This record is the kind that stands out for the month, the year and maybe much longer.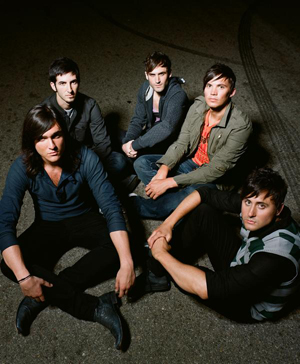 I was moving across country when I first heard this album. I had rented a 14 foot Penske truck, and Nate had agreed to split the driving from Charlotte NC, to Portland OR. Somewhere in Nebraska at 2 am, Nate put in the Cd. The sound immediately gave me visions of a mad man dressed in a St. Pepper's coat wringing the life out of a microphone. As the song expanded, this mad man walked from table to table in a pizza parlor, kicking over bottles and wrecking everything. For some reason, this music video image came alive to me. Perhaps the long St. Pepper coat represented "power" and "control," while the destruction of the pizza place meant "fun" and "carefree."
I'm not a music snob or a qualified Cd reviewer, but I know what's awesome. And when I walk into a circus, I know how to have a good time…so listen up: This amazing new band, The Urgency, is like no other. Even though everyone will try to compare them to other bands, it should be noted that The Urgency has done what other bands haven't. They have taken pieces from every notable band in the last five years, and successfully merged it with the classic sounds of the 80's. (Please Note: not "the 80's," but the CLASSIC SOUNDS of the 80's…as in melodies and creativity). I know every myspacer is trying the synthesizer- beat game with Ray-Ban sunglasses on, but unlike those kids, The Urgency gets it. Instead of copying other bands and genres, they built the perfect summation of everything that's hot in the last 20 years. Many will compare the singer, Tyler, to Sting and The Police, and they should. He does sound like Sting; but his sound is classic and unique, so the Sting comparison hits on different levels. But if it were up to me, I'd say The Urgency is a mixture of The Police, Anberlin and Iron Maiden…with a hint of Boston and Dragon Force.
PS: Tyler or anyone else in the band who reads this…we're gunning for you with cameras in hand. So, hopefully we can hook up in a city and do an interview with you guys. Until then, I hope all your wildest dreams come true.
http://www.myspace.com/theurgency