The Decemberists – The Hazards of Love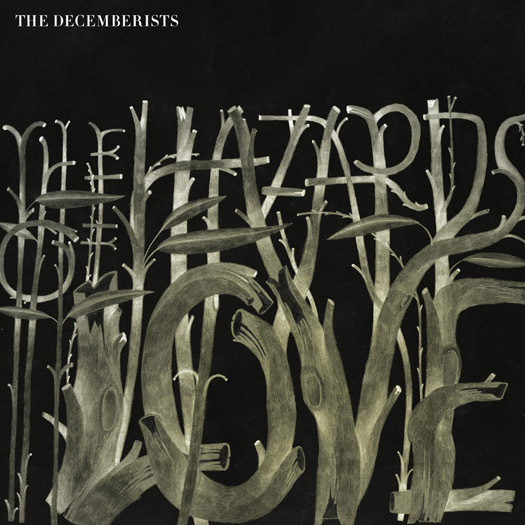 Written Paul Backus
On "The Hazards of Love," Portland's The Decemberists deliver a new collection of the folk tale stories set to music that fans of the band have come to expect. And this time, they have some new tricks.
The songs on "The Hazards of Love" all tell one long story. While the acoustic folksy sound that The Decemberists are most recognized for dominates the album, "Hazards" also includes some very heavy, distorted, arguably metal riffs from time to time. The album feels more like a rock opera than, say, "The Crane Wife," The Decemberists' last full-length acoustic folk release.
The heavy element may distress fans that don't like it when their bands try something new, but its inclusion is, in my humble opinion, justified.
"The Hazards of Love" really pushes previous Decemberists experiments a little further. "The Crane Wife" included two somewhat multi-part stories via tracks "The Crane Wife 1& 2," "The Crane Wife 3," and "The Island." With an hour-long album completely dedicated to just one plot on "Hazards," the band can spend entire songs on single characters.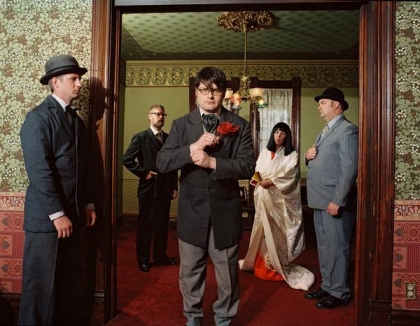 Most characters are "played" by vocalist Colin Meloy, while female vocalists Becky Stark and Shara Worden guest star as the story's female protagonist, Margaret, and an evil queen. The heavy musical elements are useful for listeners who want to keep the characters straight without sitting down and reading all the lyrics. A metal guitar riff accompanies the queen's spoken parts. Another villainous character, "The Rake," tells the story about how he murdered his children through Meloy's vocals set to a head-banging beat.
The story can best be described as bizarre. Lyrical wordings are unusual as well. Consider "Don't you lift a finger. Don't you snap and jaw. Limber limbs akimbo rest until rubbing raw." Or "Father I'm not feeling well, the flowers me you fed tasted spoiled for suddenly I find that I am dead." And of course, "The prettiest whistles won't wrestle the thistles undone."
The lines collectively weave a tale about a girl name Margaret who aids an injured fawn, which then morphs into a human man. They fall in love, get naked, and Margaret gets pregnant. The evil queen is none too happy about this. The fawn man owes her his life. "This is how I'm repaid!" The queen shrieks. So she helps the Rake kidnap and imprison Margaret. Will there be a happy ending for poor Margaret and her fawn lover? You will just have to listen to "The Hazards of Love" for yourself and find out.
As well you should. While the lyrics and plot seem strange compared to just about anything else, they are standard Decemberists fare. The guest vocals are incredibly beautiful, and Meloy's performance is as strong as ever. The instrumentation is rich, textured, and varied. When it's all put together, these guys sure know how to tell a good story.