The Dangerous Summer – War Paint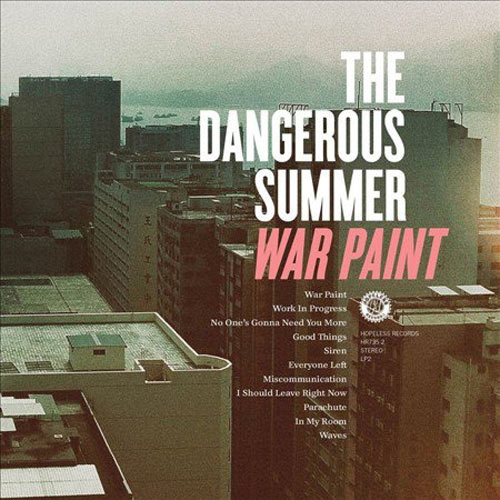 The Dangerous Summer (Hopeless Records) are one of my favorite bands. I was excited to review their latest release "War Paint." Their records are written with such talent, emotion, and ambition they'll never let me down. I had the chance to see them live on Warped Tour twice this year and it gave me a chance to hear a few tracks off their new Record, War Paint, Live.
The Dangerous Summer's (Hopeless Records) new record, War Paint, opens with the title track War Paint. Right away my ears are drawn into the guitar tone that sets them apart from most bands. A listener can immediately tell that the production has stayed the same on every release they've put out and I love it. This track builds up slow and is a great opener. If you've never heard The Dangerous Summer (Hopeless Records) I can guarantee you'll be hooked after this track.
"Work in Progress" continues the vibe they have started with War Paint. It opens with the lyrics "Tell them all that I'm a work in Progress, pour it out and I will stay out of the way. Fill it up for what its worth I'm homeless." I like the picture they've painted here and I agree we're all works in progress. When it hits the chorus at 50 seconds a wall of sound engulfs your ears. This track is full of anger and emotion and only gets better with every listen. It should be noted that the drummer of The Dangerous Summer (Hopeless Records) is loaded with talent and there are some fine examples on "Work in Progress"
"Good Things" is so classic sounding it could have been on any one of their releases. The entire first verse is one giant buildup to the chorus. I want to mention that one of the main things I love about Dangerous Summer is their lyrics. So real and honest I can find something to relate to in every song.
"Siren" could be the NASA rock anthem of the year The verses are so eerie they make me think of space. The lead guitar is the driving force the entire track. This track stands out from the rest of the record and it's one of my favorites.
"Everyone Left" is my favorite track on War Paint. It's beautiful with a touch of perfection. At Warped Tour this year it was one of the best songs of their set. The drums drive the 2nd verse and make for a great change that only adds to the serene vocals that exist in this track. The bridge brings about dueling vocals and I think any band that pulls this off well outside of the Punk Rock genre deserves some credit.
"Miscommunication" reminds me a lot of Cartel, The use of 2 guitars is displayed perfectly and stands out right away. They weave together so well just like the colors of a sunset over the Pacific Ocean. The chorus is the best one on "War Paint." Add this track to your summer Itunes playlist.
"I Should Leave Right Now" simply rocks. It gives Death Cab for Cutie a run for their money. The power comes in right at the beginning and never leaves. The lyrics "I was dying to leave this place I know traded it in for something I can relate to I found out who I really am" can be related to easily as to as I think we are all dreaming of what living somewhere else would look like.
"Parachute" is the next track and doesn't disappoint. The chorus is so heavy that it would have been a perfect track to close the album with.
"In My Room" starts off mellow and musically is full of talent and skill. It shows you why The Dangerous Summer (Hopeless Records) is just so freaking good.
"Waves" closes the albums strong and leaves a listener with a smile.
There isn't a track that disappoints on "War Paint" This is The Dangerous Summer's (Hopeless Records) best release and they only continue to get better as a band. If you've never heard of these guys then give them a listen. They'll quickly grow to one of your favorites and you'll find yourself waiting in anticipation for them to play a show in your city. The Dangerous Summer (Hopeless Records), I give you the Enoch stamp of approval.
You can watch their latest music video below.