The Almost – Monster Monster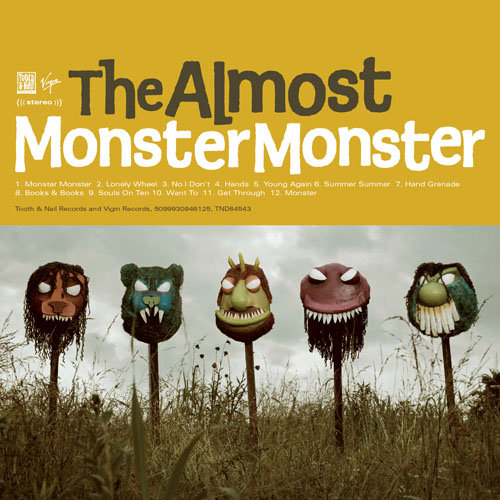 Written by Brock West
I have been a fan of Aaron Gillespie ever since I first heard Underoath's "Changing of Times" back in 2002. Since then I have been hooked. Needless to say that when I heard he was forming a side project I could not have been happier. For the next three months I waited impatiently for Southern Weather to be released. The Almost debut was captivating with their progressive pop style mixed with some amazing rejuvenated hymns that captured an intimate feeling. It was larger than life and I was in love. I tried to recreate "Amazing Because It Is" in my church, just to disappoint myself that it didn't hold a candle to the version Aaron conjured up. I love the new album "Monster Monster" so much I've devoted my next month to devouring it.
The album comes in with a bang on the title track "Monster Monster" that has everything one can dig from beginning to end. With tracks like " No I Don't" and "Hand Grenade" The Almost seem to just be showing off. I like to see a band that is willing to write songs that don't exactly fit in with the genre they are typically labeled as.
It's no surprise that Aaron Gillespie brings his heart to the lyrics and vocals that makes them jump right out from the speakers and into your soul. This album has the catchy choruses that made you love Southern Weather, but more creative melodies that fill out their sound so perfectly. If I had any advice for The Almost it would be to keep being awesome!
"If I could just believe… you'll take me anywhere."(Hand Grenade) I love it. Those are lyrics a guy like me can relate to and understand. I enjoy listening to songs that are heartfelt and say something about where the writer is in life or where he's been.
"Monster Monster" will be available everywhere on November 3rd and will be the talk of the town by November 4th.