Taking Back Sunday – Self Titled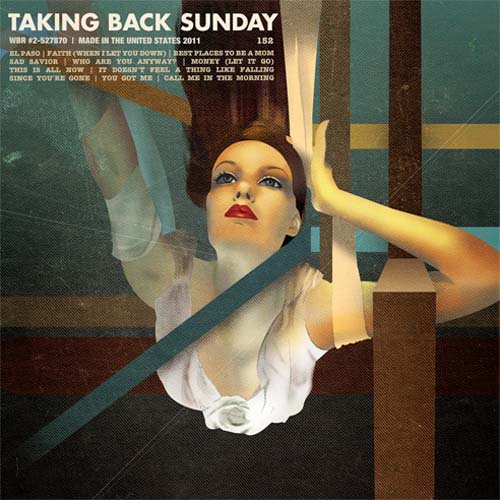 written by Tamara Allen
Two years after their last release, New Again, Taking Back Sunday (Warner Bros. Records) have brought together their original lineup to give us another great rock album. Rekindling friendships while throwing out the negative vibes, the self-titled album came together with anticipated positive results. Admittedly, it took a couple of spins for this record to really grab a hold of me, the album proves to hold true to the catchy riffs and lyrics one would expect from Taking Back Sunday (Warner Bros. Records).
Starting with El Paso, a heavier and angrier song than fans may be used to, Taking Back Sunday (Warner Bros. Records) show that they aren't about to slow down their usual momentum. Adam Lazzara's (lead singer) sometimes whiney, sometimes screaming, voice comes through during the majority of the tracks, such as Money (Let It Go), El Paso, and You Got Me. The choruses in these tracks provided the needed energy and repeated few lyrics that make the tracks memorable. Repetitiveness is not a bad thing here, as this is what will get fans singing along to the upbeat tracks. The more melodic moments of the album provide breathing room at just the right time with songs like Sad Savior and Call Me in the Morning.
They made a big decision to reconstruct the band to their original format, but this may be the best decision they have made over the years and this album proves it. With their focus back on track, Taking Back Sunday (Warner Bros. Records) should have a lot in store for us in the future and I look forward to seeing what they bring us next.