Strung Out – Agents of the Underground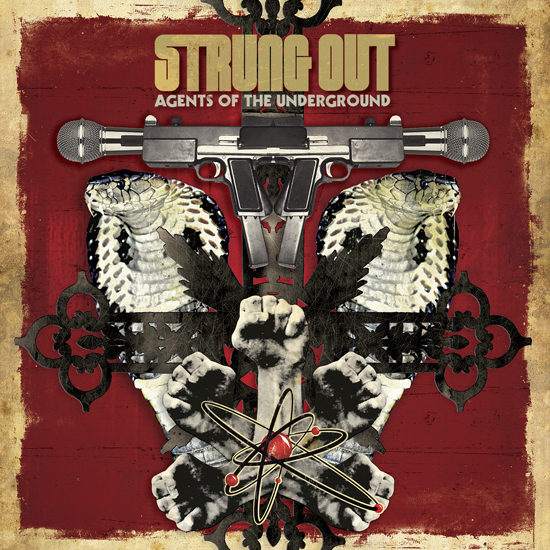 Written by Nate Smith
Fat Wreck has been my favorite Punk Rock label for over 15 years. When I was younger I bought everything they put out. I looked forward to every Warped Tour where I could get the latest Fat Wreck compilation with unreleased and live tracks. Strung Out has been putting out great punk rock records since 1989; 20 years and still going Strong.
Their new album, Agents of The Underground, is an exceptional followup to Blackhawks Over Los Angeles. It opens up with the epic track "Black Crosses". When the drums kick in you can hear the wonderful production work of Cameron Webb (Social Distortion, Lit, Sum 41, Tenacious D) and you know you're in for a fast 90's Punk Rock Record. When the familiar vocals of Jason Cruz kicks in I'm giddy like a kid at a candy store. On "Carcrashradio" Strung Out shows the listener a little of their mellow side . It's slower but yet It definitely stands out on the record.
The track "Heart Attack" starts out with a fast driven guitar which carries the rest of a song. The chorus breaks down and the vocals are carried with a beautiful background layer. As soon as the song is over I want to hit the repeat button over and over again. My favorite track on the album is number 11 "Andy Warhol'. I would put this song in my top 3 Strung Out songs of all time. It's a shame it sits as the last track of the album. I would have liked to see it open the album.
Something I've always liked about Strung Out is they have taken the idea of the 80's guitar solo and sound and put it the 90's punk rock sound. Through the years many of the 90's punk bands got older and mellowed out. With Strung Out they get older and play faster. As the Album progresses you realize that Strung Out just wants to keep putting out punk records with great lyrics and great guitar solos. Make sure you catch Strung Out on their latest tour!!! If your a fan of Rise Against then you will fall in love with this record.