Playdough – Hotdoggin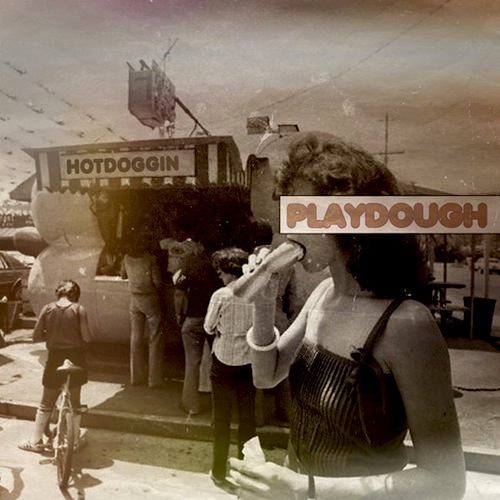 Hotdoggin' by Texas based Emcee/Producer/Lyricist Playdough, is another recent gem I came across and immediately purchased. Playdough is at it again, and thankfully, Hotdoggin is just a continuation of my love and respect for this artist and his "correct" understanding of true hip hop and emceeing. Playdough continually reminds us what hip hop is, which in my opinion is what keeps his albums desirable.
Hot Doggin by Playdough is a fun album to own, because you can tell he did some digging to find and create the beats and samples. I love all the 1960's sounds and big band cuts mixed into beats. For example, in I Got It Like, he's dusted off an old brass/percussion ensemble and mixed it with a little synthesized ghetto "hook." If Playdough could add this same touch to all the "radio rap" out there, my frustration with lazy, rap trends and their weak synth production, would cease to exist.
To me, this album is Playdough clearly saying: "Here's how you make hip hop." Hotdoggin' still offers those fun, "carnival themed" beats which trademarked the early sounds of ill harmonics and Lonely Superstar. Over all, I would describe Playdough's sound as being: Happy creative hip hop, built upon big band sounds, horn accents and piano noodles. And certainly, this then paves the way for Playdough's skilled lyrical breakdowns. In fact, I listed to The Business like 10 times in a row, because the lyrics were so amazing. I would have something good to say for every track on this album, so I'll just comment on the first 5 tracks (16 total):
Track 1: Numya is an intro. But it's important to mention that through out this album Playdough is still reppin' God and Christianity. The track offers a funny Christian record sample and acknowledges the book of Proverbs as the album's inspiration.
Track 2: Rhymer Reason isn't a standout for me but glides smoothly upon soulful guitar riffs and horn accents. "Jesus," and the "Holy Ghost" make an appearance in Playdough's lyrical flow, which is encouraging.
Track 3: No Angel is AMAZING. An upbeat 60's rock/mod rendition that opens with Playdough singing a melodic anthem, that in my opinion, works! Fast lyrics interchanged with sung vocals, will remind you of Mark Ronson and Outcast.
Track 4 Elizabeth Shue is a chill, "hammond organ" production with a heavy break-beat. This song gets Enoch props as it mentions helping the homeless: "If the shoe fits is it soul-less, do you ever lend a hand to the homeless?"
Track 5 The Business is an artistic creation in itself. Lyrics stand out heavily in this song. "I got a bucket list, short cause I spit big. Cut a jig, cut a rib off of this pig. Executive, I own the shindig, off the top toupee, I'm the big wig." Just as you're about to recover from all the times you rewound the track to relive the lyrical creativity, it switches to a completely different song talking about NOT grinding on random chicks! Second song: "You don't freak'n own me, you don't freak'n know me. Chick is grind'n harsh, she ain't freak'n on me." Only Playdough would do something so awesome like this for fellow believers to enjoy.