Nofx – The Longest EP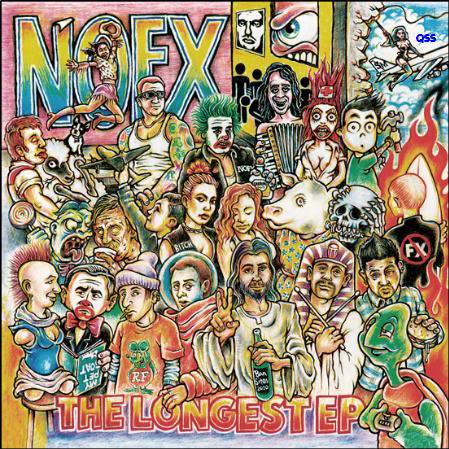 Reviewed by Nate Smith
Whenever Nofx puts out a release I always get excited. They are one band that seems to put out something new for the fans every few months. Their latest release is 30 tracks gathered from various 7 inch and ep's. It's titled "The Longest EP" and it really lives up to its name. One thing I want to mention is that this release is worth owning because the lyric book tells about all the different tracks with commentary written by Fat Mike. With a band that's been around 25 years commentary is always great.
The first 5 tracks are from the Longest line ep which was their first release on Fat Wreck back in 1992. These tracks still sound great and show us exactly where Nofx came from, which ironically is still the same day. It's good to know that some things in life never change. Track 10 was the commercial they made for the "War on Errorism" abum. I wish more bands would include things like thison their b side cds. The acoustic version of "Stitches" is top notch. I love when bands take punk rock acoustic. I think it's a good test of a punk rock song. If you can play it acoustic than you know for sure its gonna be great as a fast punk song.
According to Fat Mike the songs from the "Never Trust a Hippy EP" were left off Wolves in Wolves clothing because they thought they weren't good enough but it turns out they think there better. I agree as this ep my be my favorite from Nofx. Although I may disagree with some of the lyrics in "Your Wrong" it's a great Nofx song. "Cokie the Clown" ,track 19 orginally released on the "Cokie the Clown EP", rates, in my top 5 Nofx songs of all time. It makes me laugh, has a great chorus, and its 90's skate punk at its best in 2010. I want to mention that the video for this song is great. If you have a chance look it up on You Tube.
The last 5 tracks on this ep are classic Nofx. Recorded in 1986 in Santa Barbara and they are a must have for any die hard Nofx fan.
If you're a true fan of Nofx or just love punk rock than you don't want to miss out on this record. Nofx please don't stop making great Punk Rock!!!