MxPx – Punk Rawk Christmas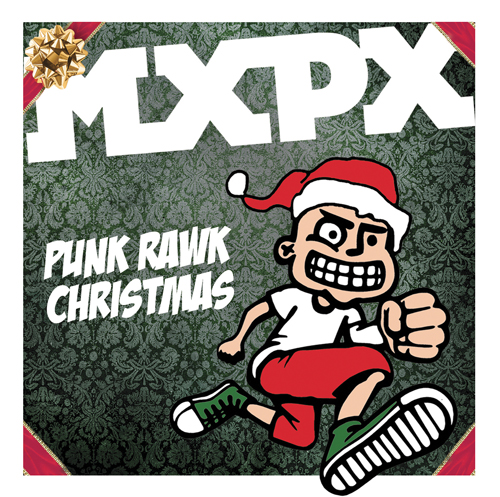 written by Nate Smith
My favorite time of year is Christmas. I love the lights, making gingerbread houses, and of course getting presents. I actually enjoy spending some time with my family, too. When I first heard that MxPx was releasing a Christmas cd, I thought "this is awesome." My 2 favorite things were coming together, Christmas and Punk Rock. I was also stoked because MxPx was putting out 2 cds in the span of a month.
The album starts off with the track 'Punk Rawk Christmas," which is also the name of the album. The lyrics tell the story of having no money to spend on Christmas gifts but still having the ability to spread the Christmas cheer. I must mention this track has the classic MxPx sound that draws me in. I can tell already tell that I'll be enjoying this Christmas Album all year long.
The keyboard blended in the song "Christmas Day" brings a fresh sound to MxPx that we may have never heard before. The guitar on this track is so straight forward MxPx it brings me back to the days of "Life in General". Even though this is a Christmas Album from MxPx they've still managed to sing about girls and life on the road. Would it be MxPx without this? On "I'm coming home for Christmas" I love the family atmosphere Mike paints in the lyrics about his journey of going home and spending time with his family for Christmas. The Gang vocals on the chrous are a nice touch, too.The simple theme of forgiveness rings out on "So this is Christmas." I love the lyrics "find it in your heart to forgive cause this is Christmas." It's true that when family problems arise Christmas is a great time to let those feelings go.
Every Christmas my Grandma has this terrible ornament that plays terrible Casio keyboard Christmas carols. On "Late Great Snowball Fight" they intro the song with this exact sound. It instantly brought a smile to my face. This would also be the first Punk Rock song I've heard about snowball fights. I have a feeling this album was a chance for MxPx to revisit some of their favorite Childhood memories. I love the fact that MxPx only covered one Christmas song "Auld Lang Syne" and the rest of the songs they wrote themselves.
With 3 releases in the bag for 2009 MxPx is still rocking strong. Their not going away anytime soon. I think this a stocking stuffer for everyone. Give the gift of MxPx to all your friends.