Living with Lions – Holy S@#$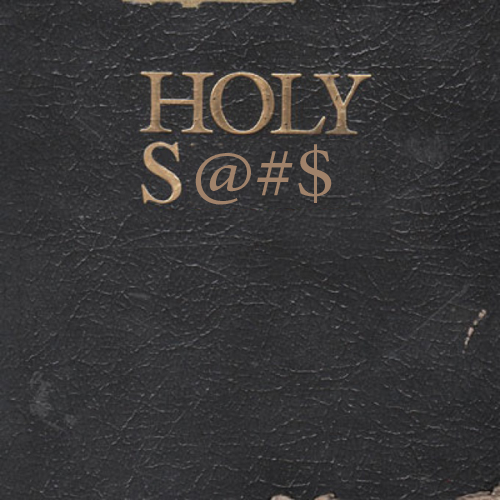 Fast Punk Rock, great lyrics, and an overall sense of perfection describes the latest visually controversial release from Living with Lions (Adeline Records) titled Holy S@#$. This record could be the life of any party and a release that's so good you'll want to buy a copy for your friends…That is, if you're not completely offended by the artwork!
The album opens with Pieces and instantly draws me in. It starts out with a buildup and the first time I heard it I just wasn't quite sure where they were going. At the 52 second mark the drums kick in and we're off and running. I had never heard of these guys but by the end of this track I was in love with Living with Lions (Adeline Records). The singer's vocals tie in so nicely with the background vocals that you hear on the chorus. Who doesn't love dual vocals on the chorus? This track reminds of early Lawrence Arms with a twist of Alkaline Trio.
"Regret Song" reminds me of 90's punk rock. It's one of my favorite tracks on the album with its raw vocal powers and power pop chorus that sounds so full a semi- truck couldn't run it off the road. The lyrics on the bridge "I regret all the songs I wrote and I regret never saying any of this to your face 'cause you were never worth all the songs I wrote I regret everything I did" are so real and raw I think any musician who's ever been through a bad breakup can relate to them.
Track 3 "In your light" displays intricate punk rock guitar work that could have only been learned from listening to all the Fat Wreck releases in the 90's. The chorus has a breakdown that rocked my face off. The lyrics are once again great and this track could easily make it into my punk rock rotation.
Honestly Honestly, track 4 keeps the great vibe going. So far Living with Lions (Adeline Records) have stepped up to bat with every track. Pay attention to the chorus because I think this is the best chorus on Holy S@#$.
"Whatever you want" brings about great guitar work backed by solid drumming. It reminds me of Saves the days meets the Ataris circa 1999; another gem on Holy S@#$.
"Maple Drive is still Alive" starts off a little mellow but picks up quick. It's a longer song and the tempo change between fast and slow is a nice break on the album. I like it. The bridge is simple and effective.
"Wake up" has a beginning lead guitar line that has perfect tone. The drums and dueling vocals drive this track right into your head. You'll find yourself humming this well after the cd has finished. It's one of my favorites on the album.
Track 8, "Matthew Song's" reminds of me The Starting line. The drum, bass, and guitar come together to make this track one even your mom might like
"Rough around the Edges" is song about how we all are rough and need to change. It's honest and leaves with me a feeling that I've got a few things I can work on.
"When we were Young" makes me wish I was young again when life was simple. It opens with the lyrics "I dreamt last night I was 9 years old again." This song closes out the album with a thoughtful track and leaves me satisfied.
Overall Living with Lions (Adeline Records) has put out a great punk rock release. The lyrics make me think and the music is fast and in your face. It should be noted that the artwork on this album is very interesting and the label and band had to pay back $13,248.00 borrowed from FACTOR (The Foundation Assisting Canadian Talent on Recordings) because they found it offensive. The band wanted their fans to have the album as they intended so the band paid it back and re released it with no changes. I'll let you decide for yourself what you think.