Gorillaz – Plastic Beach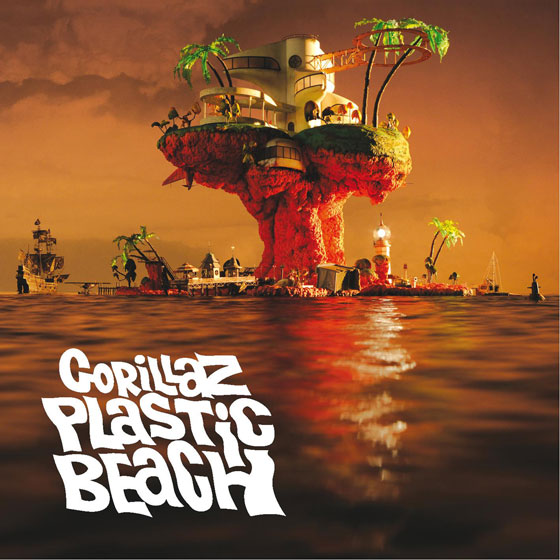 Reviewed by Nate Smith
Every once in awhile, it's fun to take a step out of the musical genre I love and check out something a little different. The new Gorillaz album falls right into that category. This album begins with the intro track "Orchestral Intro" where the soothing sounds of the ocean and seagulls can be heard along with a mellow string arrangement. I must say, it was a very original and relaxing way to open a record. The next track begins with a spacy keyboard sound and a bass line that reminds me of the 70's. A listener feels right away like they are being transported to Mars. I can see the spacesuit and futuristic helmet I am wearing. "Rhinestone Eyes' is wonderful. The vocals carry the song with a subtle selection of beats and instruments in the background. At 52 seconds in, the song picks up and I can't help but enjoy this new found guilty pleasure.
The song "Solo" might as well be the new Knight Rider Theme Song. If you took Kit and mixed him with the submarine from 20,000 Leagues Under the Sea, than this is what you would get. "Melancholy Hill" is a true tribute to the 80's, drum machine, synth, and overall feeling that I need to unpack some of my coveted 80's toys. It's my favorite track on the album. The arrangement is amazing, and the instrumentation is pure genius. It gives the current radio crap a run for its money, and in a weird way, it reminds me of Men at Work.
"Glitter" is the perfect backdrop to play Lazer Tag too. I could picture myself and the rest of the Enoch Magazine crew shooting each us with this track confusing us in the background. On track 9, "Some Kind of Nature," the vocals carry the song with a bass line that would best be felt and heard through subwoofers as you roll down the streets of Los Angeles.
Overall, I was surprised by this record. I had heard the Gorillaz records in the past and I wasn't that impressed. The instrumentation is experimental, but not too out of the box. The beats leave me walking away with a groove in my head. After listening to this album I'd be interested in seeing them perform it live. I must mention too, that the album artwork is designed flawlessly. In other words, it's good!