Fair – Disappearing World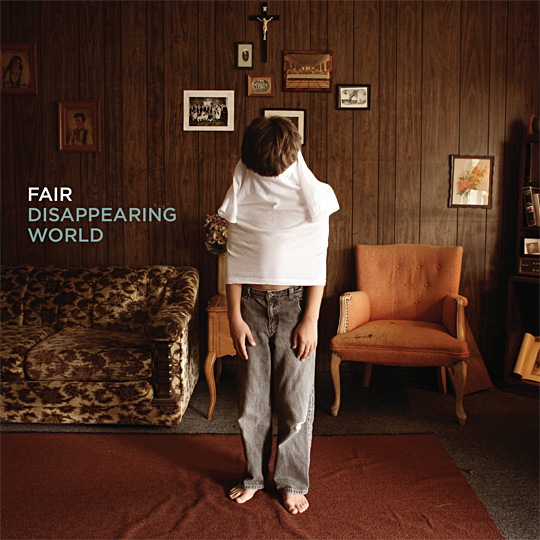 Reviewed by Nate Smith
Aaron Sprinkle has produced so many great records through the years. He's been in the music business for a long time – plays every instrument except drums, and produces bands for Tooth and Nail Records. When I had the chance to review Disappearing World by his new band "Fair," I was ready for stellar production, catchy choruses and overall musical talent. What I received from this latest release was all that and more.
At the 1:34 mark in "Disappearing," the music is simply wonderful. I feel the heartfelt lyrics coming to life as Aaron was belting out "His intentions were not as clear as they could be, whose reflection was not made to look like me." The ending of this track reminds me of a well thought out daydream; It's beautiful. "One Last Time" is my favorite track on Disappearing World. It's a blend of Jimmy Eat World meets Sherwood. I can't get it out of my head and it's the perfect track to buy off of Itunes if you want to sample Fair.
"The Worst of your Wear" shares a similar sound to the earlier work of Mae. It's an acoustic guitar driven song with piano and keyboards coming in and out to fill the sound. I usually listen to the lyrics but the arrangement was so powerful I found myself not even sure what the song was about. The music was captivating. Track 10, titled "Anymore" is a piano ballad that even Elton John would be proud of. Its simplicity brings it to a place so serene I could fall into a peaceful sleep while listening to it. At 2:48 the drums kick in and the song is in full effect; I love it. I actually feel like I'm watching a musical as I listen to this song. High School Musical watch out.
I have so much Punk Rock in my music collection, so this Cd is a perfect opportunity for me to take a break from fast drums and blazing guitars. This album gets the "Enoch Stamp of Approval" and is a treat for all music lovers. The production couldn't get any better. The arrangements are fresh and it's just not the ordinary stuff we hear everyday. Well done Aaron!