DJ Morph – "International"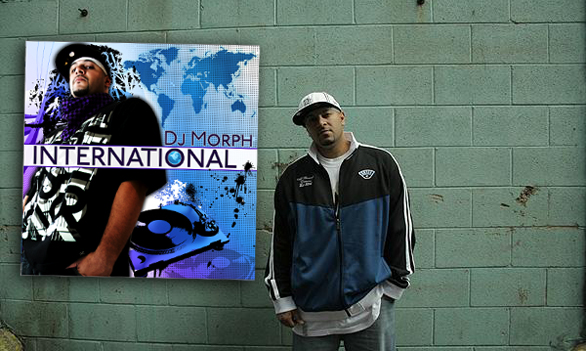 Written by Carter Theis
DJ Morph (aka dj morphiziz) is probably one of 10 or so DJ's I'm aware of who are down with the Lord and ill on the turntables. I met Morph 4 years ago while he was heavily involved with the Beatmart label (a hip-hop label out of Nashville). Since then I've had one more chance to hang out with him and I simply adore his attitude and heart for the Lord. Morph is one of those guys who will spend time with anyone, treat them with tons of respect and then offer them encouragement for the rest of their lives…
DJ Morph has toured the world. He knows tons of emcees and crews. I must admit that I've been out of the loop for awhile, so a lot of the collaborators on his new album "International" are new or unknown to me. But of course there are others, such as The Breax and Braille, whom I'm well aware of and never tire from.
There's 20 tracks on this album and close to 30 different emcees involved (I sorta counted). In fact, some songs feature up to 5 different emcees sharing the mic. Artists like K-Drama, Eddie Nigma, Mahogany Jones, Applejaxx, Big Nate and Break Bread are featured on multiple tracks. But anyway you slice it, this is a giant album. Tons of people are involved with this one.
What does it sound like? Well, it's not jazzy or loungy…it's the opposite. It's club banging, mixed with an international flare. The album title "International" is perfect, because I imagine the beats work well in any city or country. Morph lives in Florida, so that slower, dirty south sound is certainly present. But mixed into that is an electronic vibe that seems to emulate the clubs and large crowds Morph has performed for around the world. But maybe more apparent than the sound, is the lyrics. I'm going to say that this could be considered the first "Hip-hop Worship album" ever recorded. I don't own any worship albums, so I don't know what is actually required to claim an album to be a "worship" album…but as I listened, I kept thinking this is not just an album…it's a worship concert. And with all the people involved, it's exciting hear the different ways each emcee praises God. . Morph, I know you'll read this, so I just want to say that your time, your heart and your efforts all shine on this project- as does the relationships you've sustained with hip-hop artists over the years!