Syntax's – Night Owls 4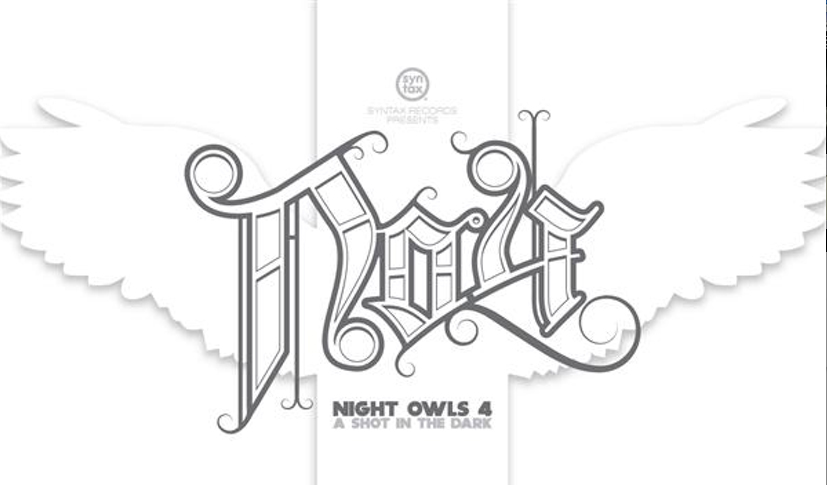 Written by Carter Theis
This is my first Cd review so you are in for a treat, yes-yes-yall. Syntax is a group of Christian hip-hop dudes that have been around since the beginning. I can remember running into some of these guys sling'n cds and playing odd time slots at concert festivals back in 2000, (and I'm sure they were rapping before that). I'm not sure how the label Syntax is organized or who runs it, (although if I were forced to give an answer, I'd blurt out Red Cloud).
Anyway, they put out a mix Cd that I'm really stoked on. It's called Night Owls 4 and it's a compilation album that's pretty great. Lately, I've been super poor (doing Enoch Magazine), so I only had enough money to buy a few songs off of amazon, but the three that I bought are bang'n! BANG'N.
I went with 2 groups that I've been a fan of for awhile: theBREAX and (L.A. Symphony's) Cookbook & Uno Mas. But I also noticed that the most popular song purchase off this Cd was by an artist I hadn't heard of before called Maximillian. theBREAX is a 3-man group from San Diego, and they've done a song featuring emcee LMNO, called We Will Not Stop. I bought this one cause they use a marching band beat and their lyrics are in your face for the Lord. I know that theBREAX is into spoken word too, so their vocab and verbal selection is always great.
The second song I bought by Cookbook & Uno Mas, Always Shine, is one of those songs you keep repeating like 20 times after you buy it! They sample this gospel choir and layer it with a solid bass groove and accented breakbeats which keeps it's excitement fresh throughout the whole song. This is another song you gotta check out! Cookbook & Uno Mas are a side project from LA Symphony, and although I wasn't that stoked on their last album, this one song makes up for it.
But California Soul by Maximillian is the joint! It's that classic California soul mixed with New York "cred." This is hip-hop in my opinion. Not the goofy stuff on the radio, but the stuff you find by digging through records or reading underground reviews like this one! It's like if Gangstarr did an album to tribute California.
All these songs are glorifying to the Lord, which is rad. Syntax records deserves a gold trophy for continuing to produce and release hip-hop that is obedient to God. It's not easy to sell hip-hop these days, but somehow these guys have stuck around. Thank you Syntax, theBREAX, Cookbook & Uno Mas, and Maximillian. I wish I had more money, cause there's still other good stuff on this 20-track compilation; like Soul P., Braille and Paradox!!! Frick'n Broke YO.
Click Here and then click "Listen to Samples" to the left, under the album art.