Joel Dobbins – Unreal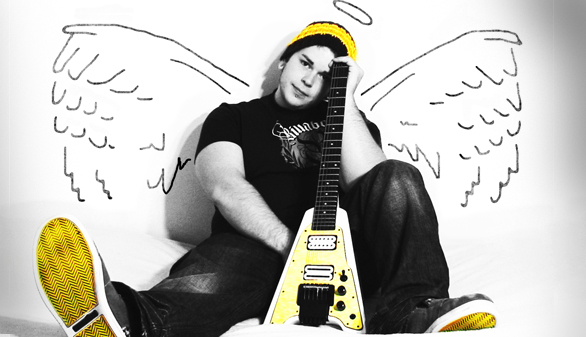 Written by Edward Applebee
As I pulled up to the venue, the dice felt hot in my hands…so I rolled them without a second to lose. Euphoria! Two cars were forfeiting prime real estate! Was the show over? Maybe these patrons were thrown out for disorderly conduct? Bloody henchmen! They paid their money, let them juggle flaming hot toilet paper rolls if they so desire! Maybe the real party was their next destination? Should I follow them? Never. Stick to the plan I thought, and resist the heat. This desert climate has a tenancy to dry up foresight.
As I pulled into one of the spots, a lowrider Toyota truck pulled into the other. I glanced at the motorist. He was on his phone, so I quickly exited my vehicle, believing haste was the best remedy of avoiding any verbal interaction. I quickly slammed the door on my seatbelt. The incorrect sound was immediately forgiven by the lingering cacti. "Nothing can disrupt us," they chanted.
As I untangled the mess, a voice behind me spoke. "You here for the show?" Goodness, I thought. Is it 20 questions already? "Ah, ya," I said, quickly stuffing my wallet down my pants. "Cool, man," the voice responded. "Cool," I thought? As I turned to face the verbal assassin, my eyes were deflected to the lowrider truck. It's turquoise paint, chrome fender trim and bed cover were dated. The driver could tell I was disturbed. "It's a rental," he said.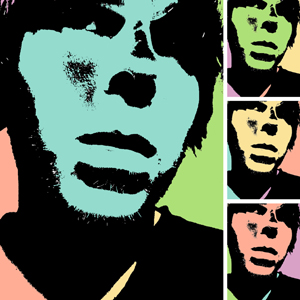 "Well, they don't rent'm like THAT anymore," I replied, "It's a shame, really." My wallet began to fall down my pant leg. Brilliant I thought, no one ever checks your ankles. The kid stared at me like I was some kind of street performer. I smiled and nodded. You can never go wrong with the "nod." It outwits most cops 2-1.
"Ok man, well I'll see you in there," he said. "I'm Joel by the way." "Conrad," I replied. The kid smiled and put on a cloth blazer. He rolled the sleeves up, popped the collar and walked into the venue. Was Conrad a real name or a communist party? I had blurted out the first fake name I could think of. I began to walk slowly behind Joel, as to not reveal my wallet. His lowrider rental had a bumper sticker on the back which read: Splatter Paint Is Quaint.
The air conditioning in the venue gave me a head rush. The contrast from desert sky to neon beer advertisements seem surprisingly similar. All of a sudden a bunch of cheers let out from the stage area. What's happened? Is someone naked? The feedback from the microphone being picked up set the mood. I'll be damned! The Joel character was up there! He had arrived in a lowrider Toyota truck and now he was on stage grinning at excited fans!
My mission was complete. The random show I had selected by covering my eyes and slamming my finger down on the weekly show listings had paid off. The credits began to roll as Joel played Hypocrite. Check him out this Pennsylvania musician at www.myspace.com/joeldobbins and when you get there also listen to Break the Locks.