Am Taxi – We don't stand a chance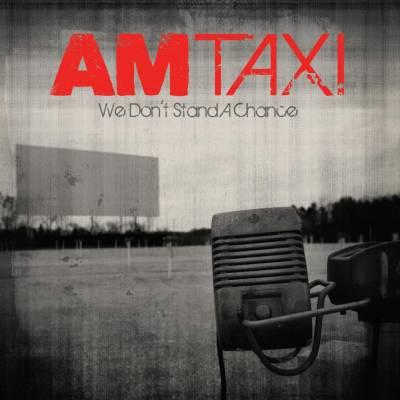 Reviewed by Nate Smith
With the curiosity of the album cover and name I was ready to check out Am Taxi. Little did I know that a great musical surprise would await me. Indie, Punk Rock, garage, you name it, the styles there. It's innovative, creative and pleasing to my ears.
Track 2, The mistake, reminds me, of a band from New York called The Exit with a hint of Thrice and Alkaline Trio. The vocals are shared on this track between 2 singers and the sound of their different voices blends like ketchup and mustard. The drums drive it with a steady beat, the guitars are noisy but not over processed. As the track plays on it begins to feel as if I am right there in the garage with these boys. The bridge hits just right with a keyboard and vocal break. This is definitely my favorite track on the album.
"Fed up" makes me want to get up, walk out the door, and pick a fight with the first person I see because it's just that good. The woahs and ohs compliment the prechrous with such force thats needed to prepare you for the rock the chorus brings. I want to mention that by track 3 the lyrics are drawing me in; vampires, drag races, powerlines all I can is 'YEAH." One doesn't usually mention those 3 items in the same setting or song.
"Charissa" starts with a country twang that's quickly transitioned into rock and roll. The bass and guitar are so simple in this song that they blend 'like yellow and red mixed together to make the perfect orange. I cant even the describe the euphoria that is created at the 1:33 mark in the song. You are just going to have to take my word and have a listen for yourself.
The best titled track "Paper Vs Rock' has simple guitars, story telling lyrics, and rock and roll that should take these boys to the top of the charts. Maydays and Rosarys really shows the vocal skills of their singer Adam Krier. Every track is unique and these boys from Chicago know how to rock.
This album wins the creativity award of 2010. The album is so full of stories you'd think your sitting at Christmas dinner with your favorite Uncle. I can't wait to catch these guys live on Warped Tour