Set Your Goals with Matt and Jordan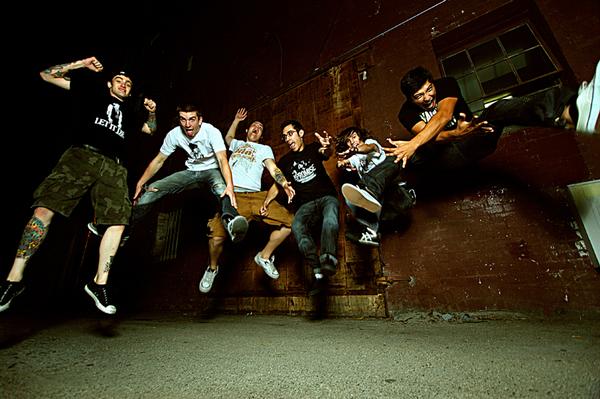 Nate Smith interviews Matt and Jordan, co-vocalists for Set Your Goals
Enoch Magazine ) The Punk Rock Music style seems to change and redefine itself through the years. What is your definition of Punk Rock and has the original message changed from back in the 70's?
Jordan ) Punk Rock to me is a kind of music that isn't afraid to ask questions and make changes. There will always be a breed of people putting their minds outside the box and finding common ground in a place smaller than the popular. There will always be an underground and a good set of beliefs amongst the right people. I don't think much of the message has changed, a message that is a very positive one when stripped down, it has only gone on to inspire others to spread the same words or to even expand on the ideas the bands and artists who came before them had. Musically, I've enjoyed seeing it grow from the mid 90s to present
year, and learning / listening to the decades before. I hope to see it always shift and take on new influences, timbre, and feel. Some of my favorite current artists doing this / currents bands to get into: Hit The Switch, Hostage Calm, Title Fight, Fireworks, The Swellers, Make Do And Mend, Paramore, You Me At Six, Four Year Strong, New Found Glory, Smartbomb.
Enoch Magazine ) Set your goals put out their new record, "This will be the death of us" this past summer. Tell us about the recording and writing process. Looking back is there anything you would do different.
Jordan ) The recording was an intense 7 weeks with but 3 days off and no less than 8 hr a day studio sessions. Serious bootcamp. It was incredible though. Everyday was like a creative workshop class. We got to build, re-arrange, write, layer all kinds of things together. Though stressful at times, it really was just a whole lot of fun at the end of the day. Mike, our producer, became a 7th member of the band and you can find him in a group shot of all of us (taken in front of a mural outside his studio in Los Angeles at Pico and Fairfax) in the CD tray. One of my favorite weeks was week 5 or so, too. We did gang vocals for a couple days and all our friends were in town. It was just a good place and time in all our lives, the recording was. Something we all really needed.
Enoch Magazine ) As your band has traveled on tour I am sure you have had the chance to interact with homeless people outside your shows or at various stops along the way. What are some of your experiences and what can we do to help the homeless?
Jordan ) I went on a field trip of sorts my sophomore year of high school. We went to the San Francisco Tenderloin District (sketchy crack, homeless, corrupt police) and to a church that served lunch and dinner to the homeless. They told us we couldn't eat that day before going and we had to spend a full work day at the church before we could have dinner. Then we stood in line like everyone else to eat, took about 2 hrs. The whole thing was cool cause you were integrated into their society whether you wanted to or not, and forced you to see how life is for them daily, on the inside. Not just what we see driving around at night. I met a lot of cool people, heard a lot of cool stories. Same has been true on tour. I like meeting nomadic wanderers, not so much
homeless, people in europe and places super foreign to America. Everyone's story is different. I think just by being good people towards anyone, no matter who they are, we are helping the homeless by helping humanity in general. To make someone feel good, special, important, that matters more than money or food to me.
Enoch Magazine ) With the rise of online media musicians have a stronger voice in other outlets besides just their music. What are some things you are passionate about and are there any organizations that you support and why?
Jordan ) Check out this organization: www.ncadp.org – we wrote a song for the record about our views of the death penalty system. A good film to check out is 'At The Death House Door' by IFC films. It's a horrible, torturous system and it's infamous. How this kind of cruelty is still happening is beyond me, especially after I saw this documentary here. I'd like for the band / label to become more involved with the song and it's meaning. Hopefully everyone will check that out. It's track 10, Flawed Methods of Persecution and Punishment.
Enoch Magazine ) Growing up in the Midwest it seemed that I had religion and Jesus being pushed upon me. What is your perception of Jesus and how did you get that perception?
Jordan ) I believe Jesus was someone who had a very spiritual experience and wanted to share his peace of mind and love of life, all life, unconditionally, with all those who would listen. I don't think he ever pushed himself on anyone and I don't believe he ever truly said, I am the one true light and son of god. Only through me will you be saved. None of that sticks with me. That's just ego and he wasn't about ego. He was about peace and wisdom. He was a hippy, not a bad thing! But some obsessed Jesus fan took it another level and started a cult (religion) out of it. I hate talking this harsh and I gotta tone it down. I have a lot of close friends. I do believe in Jesus, I just have a very different take on god and higher power (and those who have been prophets to this) than most people my age do. I have a lot of christian friends who are completely open minded and grounded. Their religion gives them a
strength and a peace and they don't take it to anywhere that would stress someone out. It's a personal relationship, it should always be just saw that. Something for yourself. I don't follow any religion but I have become very spiritual. The hard part is staying grounded and choosing when to talk about things and when to leave it out.
Enoch Magazine ) I have a strong passion for music and my dream as a kid was to tour and take over the world. I ended up working for Enoch Magazine, where we spend a good bit of our time working with the 10,000 to 15,000 homeless that live on Skid Row in Downtown Los Angeles. What would you be doing if you weren't in a band and why and what do your parents do for a living?
Jordan ) My Dad works with new media at a medical center that comprises most of our county's hospitals. I live in a valley in the east bay of san francisco. About 20 minutes from oakland. My mom works for the county's unified school district. They seem to enjoy what they do. Love music, too. If I wasn't in a band, I'd be helping other bands out and staying involved in live music. Listening, playing, moshing. F@#& it man. It's the one place I really want to be. I also enjoy helping people and it is nice to hear someone say you have inspired them. I respect what you do a lot in your work and we would love to help where we can.
Hopefully this interview will help spread awareness more, too.
Enoch Magazine ) With the music industry changing so quick there are so many genres and different artists to listen to. What were your top 7 releases that came out in 2009 and who are your favorite bands to tour with?
Matt ) These are probably my top 7 releases for the year. I think my favorite band to tour with has to be Fireworks. They are some of our best friends and there's never a dull moment when they're around. Pretty much every other band on our "Gig Life" tour last summer as well: Four Year Strong, The Swellers, Grave Maker, etc. New Found Glory and Saves The Day are also a blast to tour with and watch every night.
1. The Swellers – Ups And Downsizing
2. Mayer Hawthorne – A Strange Arrangement
3. Animals As Leaders – Animals As Leaders
4. Mew – No More Stories Are Told Today, I'm Sorry, They Washed Away
5. Fireworks – All I Have To Offer Is My Own Confusion
6. Trapped Under Ice – Secrets Of The World
7. Converge – Axe To Fall
Enoch Magazine ) Epitaph records was one of my favorite labels growing up and continues to be today. What are some Epitaphs bands of past and present you enjoy?
Matt ) Ditto! Converge, Bad Religion, The Offspring, NOFX and Rancid have all put out records on Epitaph that have influenced me greatly, and I still enjoy immensely to this day.
Enoch Magazine ) As you travel you have the opportunity to eat and enjoy many different foods and restaurants. Where are some of your favorite places to eat and what do you order there?
Matt ) If I could fly around the world in a jet all day to eat my favorite foods, I'd start my day off right in England. My favorite breakfast in the world is probably the Veggie Breakfast from Popina's in Leeds. For lunch I'd go to Melbourne, Australia and get a veggie burger and fries with some interesting sauces from Lord of the Fries. For dinner I'd go home to the Bay Area and order a veggie burrito from Taqueria Cancun in San Francisco.
Enoch Magazine ) If you could be one superhero who would you be and why and what superhero would you want to fight?
Matt ) I'd want to be Superman because, although he isn't even close to my favorite superhero, he seems to have the best powers. I'd want superhuman strength and the ability to fly, even into outer space. I'd probably fight Robin, I never liked him much.