Sherwood
Written by Nate Smith
SHERWOOD INTERVIEW: Nate Smith talks with lead vocalist/guitarist Dan Koch.
A blend of simple rock melodies with catchy lyrics that you can't seem to get out of your head. This could only describe the band, Sherwood. Hailing from San Luis Obispo, CA this 4 piece band has been rocking and rolling since 2002 where the founding members met at Cal Poly State University. After years of playing shows and selling their album in the mall to anyone who would listen, they finally got their break with their first record called "Sing but Keep Going" released on Sidecho Records. After selling over 20,000 albums, the band continued their relentless tour efforts.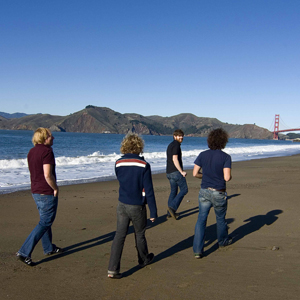 >
In 2006, this paid off when they signed with Myspace Records and put out their latest album, 'A Different Light'. This was a new and exciting world for Sherwood as they were the first band to sign with this label. Through countless tours and a faithfulness to their fans Sherwood remains one of the up and coming bands of 2008.
You may not know this but in 2005 singer Dan Koch and former guitar player Chris Armstrong released a free online ep under the name "I'll Beat You Up" . This ep was done in the style of breakdown hardcore with Children lyrics. You can download it at www.myspace.com/illbeatyouup .
While the band was on the Road in Europe we had the chance to catch up with them and find more about this 4 piece band from Northern California.
ENOCH MAGAZINE: Sherwood is starting to sell out shows. To what might you credit this success? Is it just the music? Or is there some other piece of the pie that you feel has significantly helped the band's momentum?

KOCH: Well, there are always a lot of reasons for a band's increase in popularity, although I'm not sure I would measure ours quite as high as you've put it. We have done a lot of touring, made some smart business moves (mostly due to good advice), and made it a point to be very involved with our fans. I imagine all those have worked with the music to bring us to where we are.

ENOCH MAGAZINE: You're touring in Europe right now. How's that going? Is your following over there similar to or from different from your tours in the States?

KOCH: It is really fun, but we are exhausted from being on the road all year. Also the fans show their appreciation in different ways, so it's hard to tell how well it's going over.

ENOCH MAGAZINE: I've been a punk rocker since the 7th grade. Did you ever go through a music phase in your early years which helped (or didn't help) to shape your present musicianship? Also, in terms of lyrics, were there any punk rockbands you liked or any messages from any early bands that influence your lyric content now?

KOCH: I listened almost exclusively to Punk for about 3-4 years in Junior High and High School, so I definitely think it's had an influence on me. Musically, it was mostly a bad influence I think, and stuff I am trying to move beyond in my own music (with a few exceptions, of course), but ethically, I think it was really good for me. Propagandhi got me thinking beyond my own little world, and more about politics and world needs. But lyrically, I don't know that any of that stuff really plays into what I write now.

ENOCH MAGAZINE: In terms of writing music, can you do it anywhere, or do you need a specific place and some structure to write a great song?

KOCH: I am still trying to figure that out. I guess I don't NEED any particular environment, although writing full songs is difficult on the road because of all the noise and distraction.

ENOCH MAGAZINE: Do you have a special relative/parent or grandparent that played a roll in exposing you to music?

KOCH: My uncle bought me my first guitar, although it took me another year or two after that to really start playing it — I was intro drums before that.

ENOCH MAGAZINE: I read that you played a prom in Arizona back in '05. Was it cooler than your own prom and did it take you back to any classic or haunting high school memories?

KOCH: It was fun because we sorta got to pretend that we were there for the dance. Mikey asked one of the girls who was nominated for Prom Queen (but didn't win) to dance the last slow dance with him, and she said Yes. That was hilarious and adorable. Also Mikey and I tried to start a circle after requesting "Bootylicious" by Destiny's Child, but everyone just stared at us.

ENOCH MAGAZINE: If we asked you three questions, to which you responded: 1. "yellow," 2. "hip hop" and 3. "yes, but I wouldn't recommend it" …. What would those questions be?

KOCH: 1. First Coldplay song you loved? 2. Which musicians dress the freshest? 3. Have you ever gotten in a religious conversation with an uber-conservative old man, who was sure that the world was coming to an end very soon in Left-Behind fashion, on an airplane?

ENOCH MAGAZINE: What brands of instruments do you guys play? Does anyone have any rare instruments they are particularly proud of?

KOCH: We play Fender guitars and amps mainly; Nate has an Ampeg SVT Classic with an Ampeg 8×10 cab, and Joe plays Destructive Drums. Mikey plays a Nord Electro and a Korg Radius.

ENOCH MAGAZINE: Being on the road must be tough sometimes cause you're away from everything you've known. I'm not sure if you're down with the Lord or not, but I'm a Christian and I try to base my actions and decisions on the teachings of Christ and how he rolled. Where do you get your morals and values from, and are they ever challenged due to your band's success?

KOCH: I also try to base my decisions on the life and teachings of Christ, and I guess the band does make that harder in some ways, including the fact that there are no older people around us almost ever, and I think it's really important to surround yourself with older, wiser folks. Also, there is lots of alcohol around almost all the time, and it's a challenge to find an appropriate understanding and enjoyment in an environment where abuse is the norm. Also, attention from women can be distracting, and for some bands women are readily available for whatever they might want to try, but that's not really the case with Sherwood. Those type of girls gravitate away from us, I guess, which is nice.

ENOCH MAGAZINE: What's an up-and-coming band that you like? Why?

KOCH: Barcelona — they are from Seattle, similar to Sleeping At Last, Copeland, Lovedrug, etc. I just really like their album a lot, I guess. Mygirlfriend lives in Seattle and goes to see them a lot, so it's also something we can share in.

ENOCH MAGAZINE: In 2005 I traveled in a 70′ camper for a year with a buddy working with homeless and street kids across the country. At one point on the trip we let these 2 homeless punk rock kids live with us in our camper for 2 weeks. Do you have any classic or memorable tour bus stories worth sharing?

KOCH: Our merch guy likes to come on the road with us a for a few days at a time, and he sleeps on the ground in between the chairs in the front of the RV, in his little sleeping bag, and those are usually my favorite days of the tour. Love you, Andy!

ENOCH MAGAZINE: What's a video/videos you'd like us to link to this interview?

KOCH: I would say link to one of the Sherwood Show episodes on our Myspace– probably episode 5 is my favorite… http://vids.myspace.com/index.cfm?fuseaction=vids.individual&videoid=23400406

ENOCH MAGAZINE: Final question: Do you have any questions for me, Nate Smith?

KOCH: This is funny because I once prank-called Jonathan Jones (from Waking Ashland/We Shot the Moon) and pretended to interview him in this style where every question I asked him, he then had to ask me also. Then I made him make up a question for me at the end… But I can't think of one now. Dang.

ENOCH MAGAZINE: Thank you Dan Koch and Mike Cubillos for the interview!!